Barbara Riccardi was appointed Senior Country Manager for the Middle East in June 2020, and here we find out all about this globe-trotter who has visited more than 50 countries and lived in seven of them. In 2020, Barbara took part in the first edition of our Women's Sponsorship programme. Through this programme, the members of our senior management committee are involved in the mentoring of 15 female leaders, and in supporting them for a year in their career development.
"When you are 23 or 24 and you are the only woman on an oilrig off the coast of Indonesia or Venezuela, you learn to deal with the pressure. In an entirely male-dominated environment, I constantly had to prove that I belonged there. But it taught me to fight, to keep putting one foot in front of the other and above all never give up." Now aged 47, Barbara Riccardi, who was appointed Senior Country Manager for the Middle East at Natixis in June 2020, still has fond memories of her first job as a wireline logging engineer at Schlumberger Oilfield Services.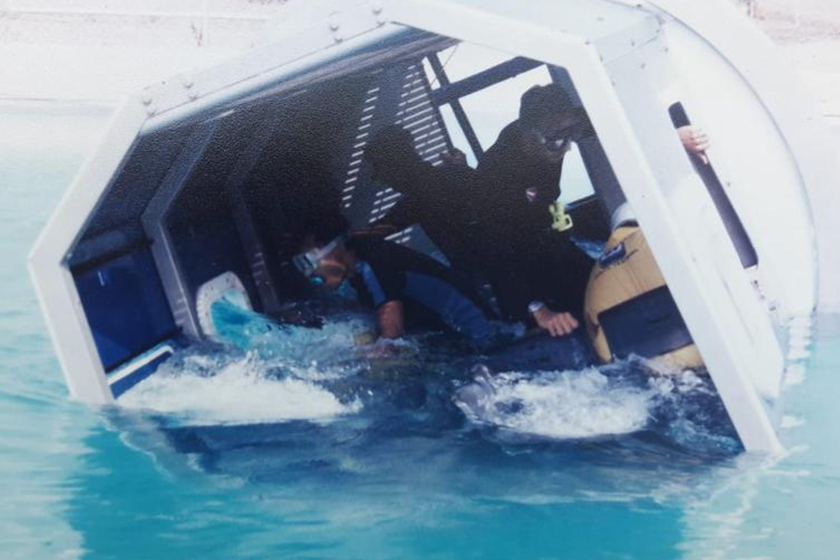 Barbara Riccardi during an exercise in a diving capsule
The power of adaptability
While Barbara never really felt any fear over the three years – often having to share a room with male co-workers and locking up her personal belongings so they did not disappear – she did feel very lonely: "when I would arrive at a new location, the first question I was asked was "well where's the engineer?", and when I answered, "she's here", there was always a moment of disbelief. I also had to get used to everyone looking at me when I would go to the canteen for example, but once you show that you are useful and valuable, things soon fall into place" she smiles.
The ability to adapt involves communication, connecting with others, cooperating and working as a team .
Dancing and swimming made for real advantages
"In this kind of extreme situation, you have no choice, so you have to adapt". This determination and perseverance may perhaps also be the result of eleven years of dance training and five years of competitive swimming, which took up a good chunk of Barbara's childhood and teenage years: "the ability to adapt involves communication, connecting with others, cooperating and working as a team, regardless of other people's profiles or cultural backgrounds. Management is at the center of my new position at Natixis, so this experience is now extremely useful". Our travel addict joined Natixis in 2010 when she started in the Infrastructure team, initially in Dubai, and subsequently in New York, and looking beyond technical competencies, her soft skills are what really make all the difference.
Another side to her personality
Barbara Riccardi decided to foster these more informal soft skills very early on, when she moved into finance after leaving Schlumberger: "I applied for a job at Shell where I had to spend most of my time on financial modelling, and I really leapt at the opportunity as I didn't see myself going from one oilrig to another for years to come".
I plan to write another book, for my daughter this time…
So suddenly thrown in at the deep end, Barbara was immersed in stacks of figures and Excel spreadsheets, which she recognizes "was very intense and sometimes boring". She then decided to develop another aspect of her personality as she enrolled in screen writing night classes, unlocking a more playful and artistic part of nature: "it was so interesting to write stories from pictures, and also meet people with entirely different profiles to mine during class". Here again, Barbara focused on learning, communication and adaptation, which are constant features for her, born in Rome to an Italian mother and a German-central American father, and studying chemical engineering out of interest and as a challenge, rather than as a vocation.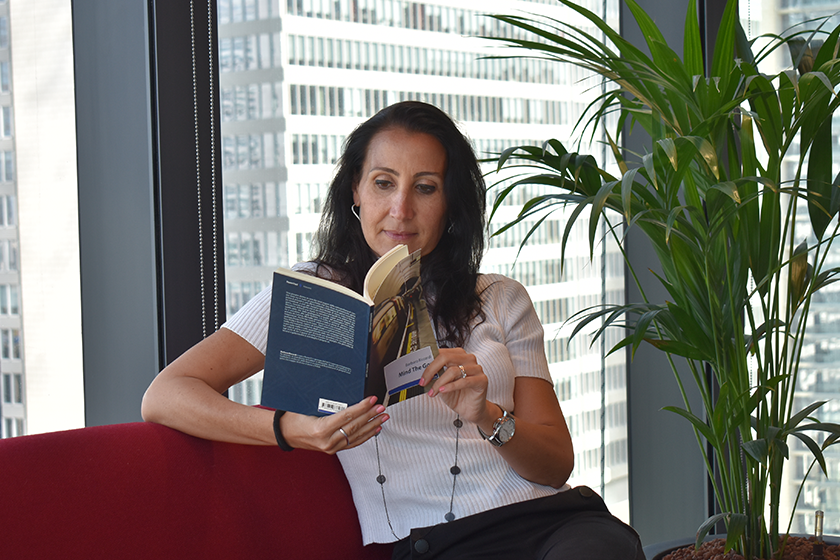 Barbara is now more involved than ever in team leadership, and intends to draw on her senior manager position to show just how her decisions "can make a difference for both the company and its staff". However, she still pursues her personal artistic – and literary – ambitions, as she published a novel in Italy in 2011 about a young woman in the London underground who built imaginary portraits of four people she encountered on her journey. This dreamlike story closes on the theme of maternity, and was intended for her son, who she sadly lost before he was old enough to read it: "I plan to write another book, for my daughter this time, to help her through this ordeal."