#Business
#Digital And Innovation
#Payments
#Business
#Digital And Innovation
#Payments
E-commerce has enjoyed stellar growth in the space of just a year as a result of the pandemic crisis, with consumers changing their behavior and new needs emerging in terms of both purchasing and payment. To address these new trends, merchants have had no other option than to reinvent their business to enhance the customer journey and help boost their sales performances, while also curtailing the risk of fraud.
Growth in online retail along with fierce competition are prompting merchants to draw on high-performance payment solutions in terms of speed and security, and that maximize conversion via seamless purchase journeys
states Ludovic Houri, CEO of Dalenys, a fintech specialized in digital payments and a Natixis subsidiary.
Consumer behavior is changing
The pandemic crisis, changing attitudes along with new technologies have combined to transform consumer behavior.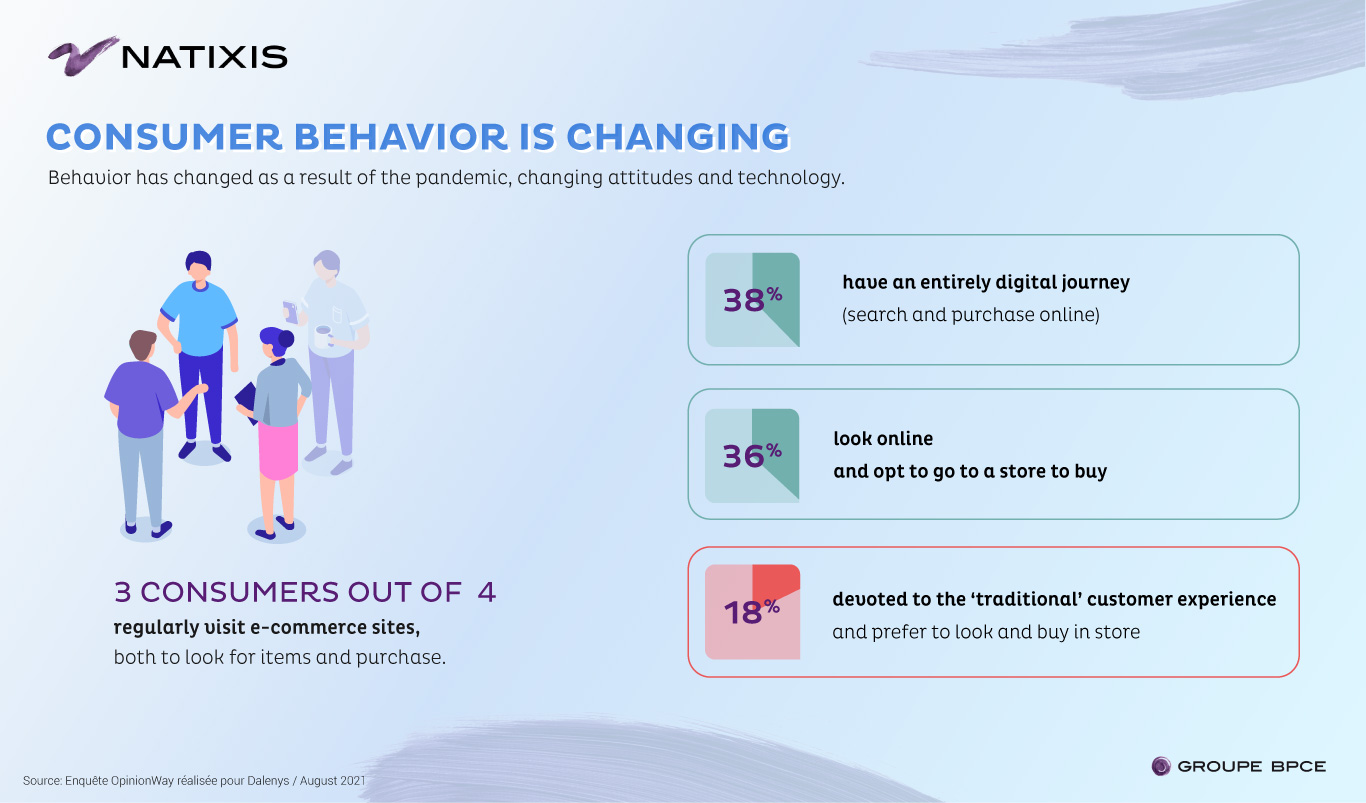 Different purchase methods
Consumer behavior changed during the pandemic, with payment and product collection evolving due to the need to limit social contact. Drive services soared during the first lockdown, with older customers also joining in the e-commerce revolution, while Click and Collect – offering an alternative to delivery – is now used on a regular basis by most of the French population, with 80% of them opting for this solution according to a report from Dalenys in 2020.
Some businesses also decided to offer a ship-from-store* service, which decentralizes deliveries, reduces the carbon footprint and also supports local business during quieter periods.
Multiple payment options
Payment usage has also changed as our purchasing habits have evolved, with consumers now interested in innovative means of payment according to the report from OpinionWay for Dalenys in August 2021:
split payment, whereby customers can pay in several instalments, can influence consumers' purchase decision. In France this payment method is the most anticipated service for the next six months, with half of users (46%) more interested in paying in three or four instalments than at the start of the year, according to a survey by Oney France/Harris Interactive, published in August 2021.
deferred payment, also known as Buy Now Pay Later, is also welcomed by consumers as a more flexible payment arrangement. This trend is growing massively and can now adapt to all sectors and transaction amounts.
mobile payment paves the way for new practices with the use of the e-wallet in particular (Google Pay, Apple Pay), although take-up remains slight for the moment.
one-click: payment details are stored securely so that customers can pay without having to fill in their bank details all over again.
lastly "Pay by link" is a way to address an occasional need. Users receive a payment link by email or SMS that leads to a payment page. Some stores even offer a pay by link service at the cash desk with a QR code to scan to visit the payment page via a mobile device, rather than having to use a payment terminal.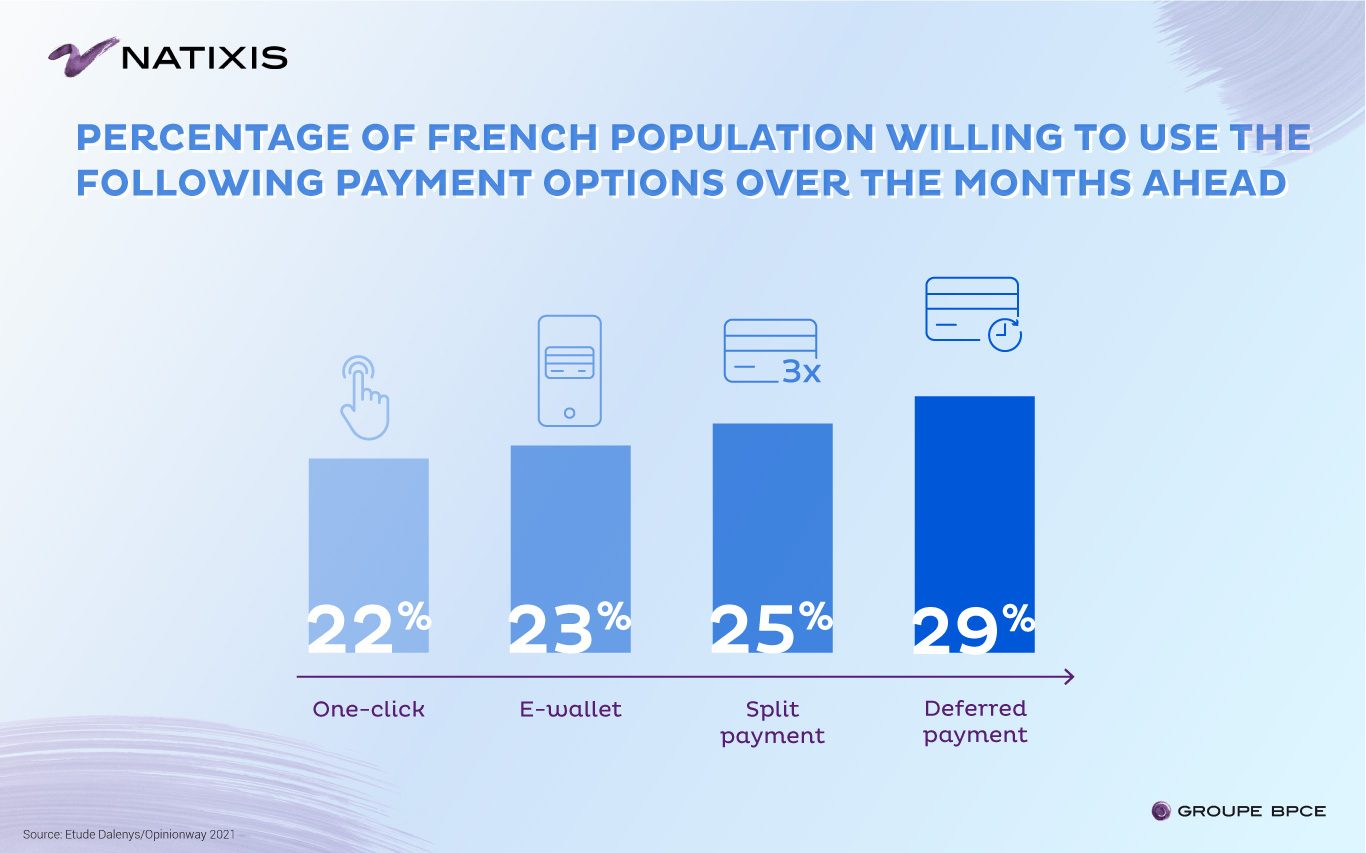 The purchase journey is a source of performance for merchants
The pandemic crisis has driven changes in consumers' purchase journeys, forcing merchants to adapt and even reinvent their businesses to safeguard or maximize their performances.
With the retailed/consumer relationship transformed by recent trends, payment has now become a key performance driver for merchants. The consumer's browsing experience must be frictionless if payment is to be successfully completed: the payment page must be clear, well-designed and built on reliable and agile technological solutions. Customers also need to feel certain that they are still connected to the web page when they pay, which means that it is crucial to fully personalize this page by incorporating the brand's graphic charter.
Lastly the huge upturn in e-commerce has prompted certain sector stakeholders to set up market places*. This type of sales model offers an opportunity to extend their catalogue, attract more potential clients and boost their sales.
Fraud is a result of this hyper-digitalization
"The challenge for e-commerce retailers is to ward off the risk of fraud while safeguarding the customer experience. Successfully combining these two factors will preserve consumer confidence in means of payment and ensure strong conversion rates" notes Sasha Pons, Chief Product Officer at Dalenys.
Concerns on the fraudulent use of payment cards and hacking of personal data can be a hindrance to consumers' more widespread use of online payment. Strong authentication requirements introduced by the European Payments Services Directive (PSD2) on May 15th, 2021, aim to curb the risk of fraud. This new procedure completely changes the payment landscape and secures transactions, but it is also an additional stage in the customer journey and means that some consumers abandon their purchase, thereby jeopardizing sales.
Previously merchants had been able to ensure a frictionless customer experience without strong authentication and were able to directly manage their balance between preventing fraud and bolstering the conversion rate. However, with PSD2, issuing banks – i.e. cardholder banks – are now responsible for triggering the strong authentication process.
Regulators have taken on board this impact and have given merchants the option to request an exemption from strong authentication procedures – on condition that the issuing bank agrees – if this is warranted on the basis of a fraud risk analysis taking into account transaction data and shared with the cardholder's bank.
In light of the increasing number of transactions, timely risk assessment is also crucial. With this in mind, Natixis has developed a first-rate system built on data technology and applied in real time: machine learning, monitoring of fraud occurrences, warnings and freezes on transactions to manage fraud in a more timely and comprehensive way.
"Consumers have shown that we are now in a new era with high expectations on payment innovation as well as security. Meanwhile e-commerce stakeholders also have their role to play in addressing this need for security and a frictionless customer journey if they want to safeguard or increase their sales" states Ludovic Houri, CEO at Dalenys.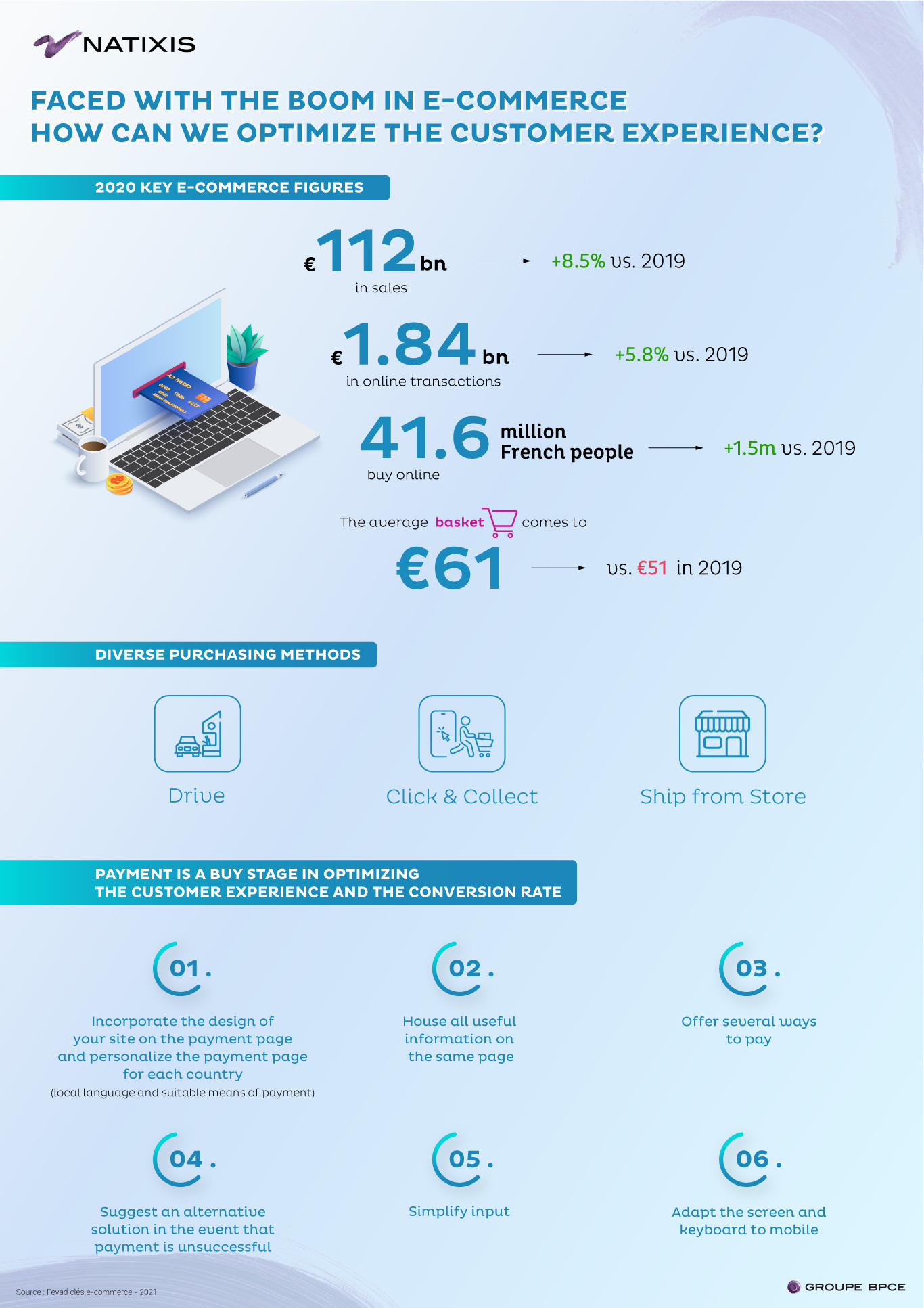 ---
Glossary
Conversion funnel: series of clear stages in the purchasing journey, each of which carries a risk of failure or conversely an opportunity to transform site visitors into customers.
Market place: software platform designed for buyers and sellers to meet, both individual and professional.
Ship from store: delivery method from a network of physical stores rather than from a distributor's storage platform
---