Our role is to support all our clients in their environmental and social transition and offer financing, particularly for large economic stakeholders.
Julien Duquenne, Global Head of Environmental and Social Responsibility (ESR)
A network of close to 200 correspondents coordinate ESR efforts for all our business lines and support functions worldwide, including in particular.
The Green and Sustainable Hub (GSH) team at Corporate & Investment Banking which provides strong impetus for this network as it supports issuer and investor clients on green and sustainable finance.
The asset management teams dedicated to responsible investment who support our clients in their ESG (Environment, Social, Governance) investments.
Financing social transformation
PRINCIPLES FOR RESPONSIBLE BANKING
The Groupe BPCE and Natixis signed the Principles for Responsible Banking and are committed to strategically aligning their activities with the United Nations Sustainable Development Goals and the Paris Climate Agreement.
SOCIALLY RESPONSIBLE INVESTMENT (SRI)
With the signature of the Principles for Responsible Investment (PRI), environmental, social and governance criteria (ESG) are now incorporated across all Natixis Investment Managers' (Natixis IM) asset management affiliates, and are also included in Natixis Assurances' investment policy.
Natixis Investment Managers offers three approaches to applying ESG criteria:
Responsible investment: inclusion of ESG criteria in research, without these criteria having a systematic impact on decision-making and investment strategies, and implementation of an active shareholding policy;
Sustainable investment: the investment strategy is based on ESG issues, aiming to align values, financial ouperformance or societal impact through investment;
Impact investing: strategy that addresses societal challenges such as those defined by the United Nations sustainable development Goals.
Find out more about Natixis Investment Managers' affiliates.
SOCIAL IMPACT INVESTMENT
Natixis is a pioneer and No.1 in social impact funds* in France with €1.19 billion in social impact assets managed by Mirova.
Mirova was the first company to launch a so-called 90/10 social impact fund in 1994 with Insertion Emplois Dynamique (IED) devoted to creating jobs in France: the social impact portion (10%) invests in solidarity structures in France in cooperation with France Active, while the equity portion (90%) invests over three years in listed companies with strong job creation momentum in France. This fund was awarded the "Relance" label launched in October 2020 by the French Treasury. With €820 million under management at the end of September 2020, it is the largest fund to have received this label.
Read more about Mirova's social impact funds.
Natixis is leader on the responsible employee savings market in France, with 25,4% of assets managed by Natixis Intérepargne devoted to SRI and to social impact savings.
* Source Finansol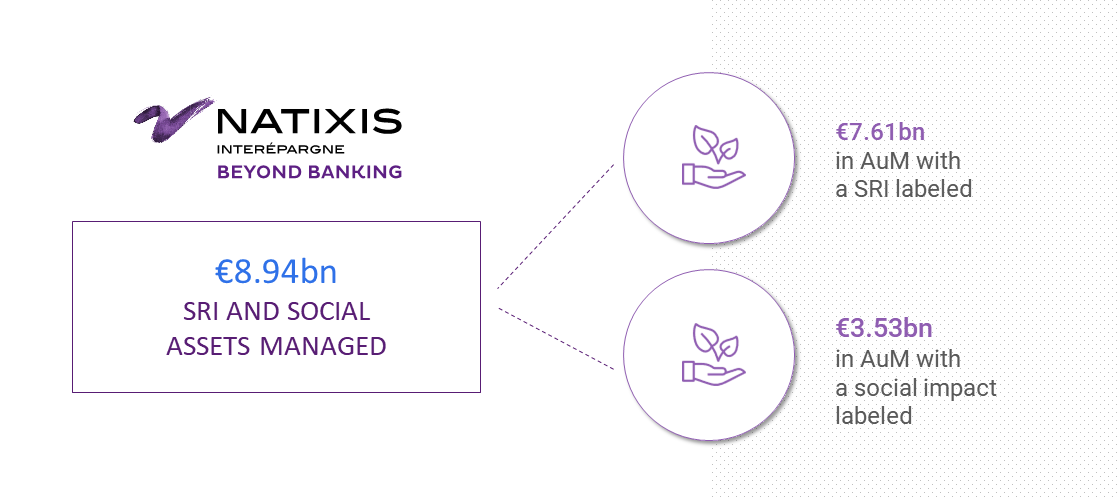 SOCIAL IMPACT FINANCING
Our social impact solutions, comprising financing, bond issues and structured products, serve to finance:
Green and social projects: essential infrastructure such as access to drinking water and vital services such as education, and preserving and developing employment via sustainable bonds, social bonds, green loans,
Companies' general funding needs when they pledge to comply with ESG criteria i.e. sustainability-linked bonds, sustainability-linked loans,
Sovereign and local authority budgets.
Financing the energy transition and combating climate change
Natixis was named "Most Innovative Investment Bank for Climate & Sustainability" by The Banker*, applauding our efforts to combat climate change and work to support the energy transition.
* 2018 award
Protecting natural capital
Biodiversity and natural capital are crucial in the economy's running, and vital to a number of services in the ecosystem, such as food and medical resources, while also reducing pollution. It is essential to preserve these ecosystems' resilience and safeguard their ability to regenerate, particularly as we face the challenges resulting from climate change.
Managing environmental and social risks
Our comprehensive approach to environmental, social and governance (ESG) risks involves all business lines, ESR and control functions. It particularly includes the development and implementation of ESR policies across the most sensitive sectors, as we assess and monitor ESG risks for both transactions and counterparties.
Since 2017, ESR has been managed by a dedicated department, reporting to Corporate Secretary. The department is supported by a network of close to 200 correspondents across all our business lines and support functions worldwide.
Moves to take on board environmental and social risks are a real performance and growth driver for our business lines, as we support our clients in staging their own transition to a more sustainable business model and offer them innovative solutions.
Our innovative Green Weighting Factor ® offers effective support in the fight against climate change, as we decarbonize our balance sheet. We also apply sector policies designed to reduce financing for the most sensitive sectors, and manage the greenhouse gas emissions resulting from our own day-to-day business operations.
NATURAL CAPITAL CONSERVATION
Natixis joined the Act4nature International initiative in 2018, and mobilizes all its business lines to offer concrete solutions to preserve and restore biodiversity.
Our commitments most notably include the development of financial solutions to support biodiversity in our Asset & Wealth Management, Corporate & Investment Banking and Insurance businesses. We have also pledged not to finance projects in IUCN protected areas I and II, in wetlands of international importance under the Ramsar convention or areas listed as UNESCO world heritage sites, and ensure compliance with initiatives to mitigate the impact on biodiversity.
PROTECTING HUMAN RIGHTS
Respect for human rights is a fundamental principle.
Natixis naturally applies this principle in our human resources management policy, safeguarding working conditions and health and safety in the workplace worldwide.
We take this on board in our responsible purchasing policy, as we select suppliers and products that incorporate consideration of environmental and social impacts, particularly in terms of human rights.
Natixis also incorporates human rights aspects into its financing approval process, applying the Equator principles, which require clients to consider the potential environmental, social, health and security risks and effects of their projects, and take all necessary steps to mitigate and address these.
Criteria we take on board in our assessment include:
Respect for staff (ban on forced labor and child labor, no gender discrimination, compliance with good working conditions)
Health
Safety and security of communities
Acquisition of land and fair compensation for involuntary resettlement
Remediation of negative impacts on indigenous communities.
We also draw on our inhouse ESR Screening tool to assess ESG risks applicable for corporate clients at Natixis Corporate and Investment Banking.
OUR CONTRIBUTION TO THE SUSTAINABLE DEVELOPMENT GOALS (SDG)
The SDGs were adopted in 2015 by the 193 United Nations (UN) member states during the summit for sustainable development in New York, and provide the foundations for the 2030 Agenda, which sets out 17 worldwide goals with the aim of fighting inequality, exclusion and injustice, tackling climate change and the erosion of biodiversity, as well as putting an end to extreme poverty.
Our code of conduct and our voluntary commitments
Our code of conduct lists rules and best practices i.e. be client centric, behave ethically, act responsibly towards society, protect Global Financial Services, global arm of Groupe BPCE, and Groupe BPCE's reputation.
We have taken a range of international commitments with financial market working groups to further develop our ESR strategy.
Other committments
Discover our 11 other voluntary commitments.
OUR NON-FINANCIAL RATINGS
Natixis is assessed by the main non-financial ratings agencies, as we post solid environmental, social and governance performances.
We strive on a daily basis to curb our environmental footprint, support community and accompany our company's transformation, as our staff are all mobilized to meet these challenges
Cécile Tricon-Bossard, Chief Human Resources Officer