#Business
#Corporate & Investment Banking
#Digital And Innovation
#Sustainable Transition
#Business
#Corporate & Investment Banking
#Digital And Innovation
#Sustainable Transition
Digital trends are shaking up the corporate ecosystem and paving the way for new technologies such as artificial intelligence, blockchain, virtual and augmented reality, tokens, cryptocurrency, etc. These tech tools have received a warm welcome on the back of the business opportunities they offer for all economic stakeholders. The Covid-19 crisis has particularly fueled a clear upturn in their use. Natixis Corporate & Investment Banking and Boston Consulting Group have joined forces to consider and better understand the role these technologies currently play, as well as the challenges involved in developing and implementing them. With this goal in mind, they surveyed 300 clients from 10 different business sectors for their report Big Business Digs into Deep Tech, which highlights corporates' tech investment needs. Read on to find out more about this analysis as well as the key conclusions in the report, which was presented at our Explore Tech event organized in Paris on September 30th by Natixis Corporate & Investment Banking.
READ THE STUDY BIG BUSINESS DIGS INTO DEEP TECH
Natixis and the Boston Consulting Group surveyed almost 300 European corporates on the Deep Tech theme. The report was unveiled at our Explore Tech 2021 event, organized on September 30th in Paris by Natixis Corporate & Investment Banking, marking the first event of its kind devoted to corporates and changes in the Deep Tech of the future: how do these companies invest in emerging technologies from one business sector to another, and what are the challenges and difficulties involved in their digital transformation? 
Boom in tech investment despite the crisis
Investment in technologies – and particularly Deep Tech* – is a crucial challenge for all European companies. These technologies can disrupt existing markets and drive the development of new ones: according to corporates that took part in this survey, they are vital in helping companies foster a long-term competitive advantage. The report shows that 90% of large companies already invest in Deep Tech and the Covid-19 crisis has stepped up this trend to boot: 78% of respondents have maintained or even accelerated their Deep Tech investment in response to the pandemic. The success of messenger-RNA vaccines thrust biotechnology investment into the spotlight, while the crisis also prompted companies to invest in emerging technologies including digital traceability tools, smart contracts, augmented and virtual reality (AR and VR) and digital assets. The world's awareness of these tools has therefore grown, with the realization that technology can help address the crisis and build a competitive advantage to tackle fierce international competition.
Disruptive Deep Tech applications
The focus obviously remains on more mature technologies that have already proven their worth with positive returns on investment, but we are seeing growing interest in new transformative Deep Tech technologies. 47% of companies monitor Deep Tech trends that have no current business applications in their sector. Deep Tech is being rolled out gradually with artificial intelligence and cognitive algorithms leading the way and seen by 60% of respondents as most relevant, particularly in healthcare and medical imaging analysis. These technologies are also increasingly being adopted in other sectors, such as voice recognition, sentiment analysis, risk assessment and fraud detection. Blockchain* is also set to be a major source of disruption over the years ahead and has already made inroads in various areas, including traceability of production chains and tokenization* of the art and real estate markets. Meanwhile augmented reality and virtual reality are being rolled out on a broad scale, particularly in retail and fast-moving consumer goods, where they enhance the user experience and develop customer loyalty. Applications can also be found in the real estate sector as virtual visits become widespread: this has the capacity to transform both the transaction process and construction work. Meanwhile, quantum computing looks promising in the longer term, particularly for financial institutions and the TMT sector (technology, media and telecoms).
Drawing on new technologies to pursue ESG goals
Technologies can also help companies achieve their ESG goals by rolling out more responsible strategies. More than half of corporates believe that technology can support environmental protection – for example via cleantech and 'tech for good' – with particularly strong needs in the chemicals, energy, telecoms and transportation sectors. Some technologies can contribute to the decarbonization of operations by encouraging the development of innovative and greener materials, as well as emission-free power generation. With these challenges in mind, European companies plan to significantly ramp up their Deep Tech investment, focusing on direct internal investment programs (45% of companies surveyed), while also drawing on external partnerships and acquisitions.
Varying investment strategies, from corporate venture capital to tokenization
Companies are adopting a more diverse range of strategies for their tech investment. Large groups have long relied on corporate venture capital*: venture capital (VC) funds, which include corporate venture capital (CVC) funds held directly by large groups, take a capital stake in innovative companies, either directly and generally via minority holdings, or indirectly via funds of funds. These funds boast faster execution speed and offer higher availability of capital, hence supporting the development of Deep Tech. However, the Covid-19 crisis has changed the landscape, with 80% of companies surveyed now preferring direct investment in technology. The other major beneficiaries from tech investment are digital assets such as cryptocurrencies and – looking beyond this technology – the tokenization* of assets derived from blockchain technology*, which wave in new ways of approaching business. This offers medium-term opportunities as a result of greater liquidity and transparency, along with new sources of liquidity. These technologies are attracting growing interest from companies and entrepreneurs, for fund-raising for example.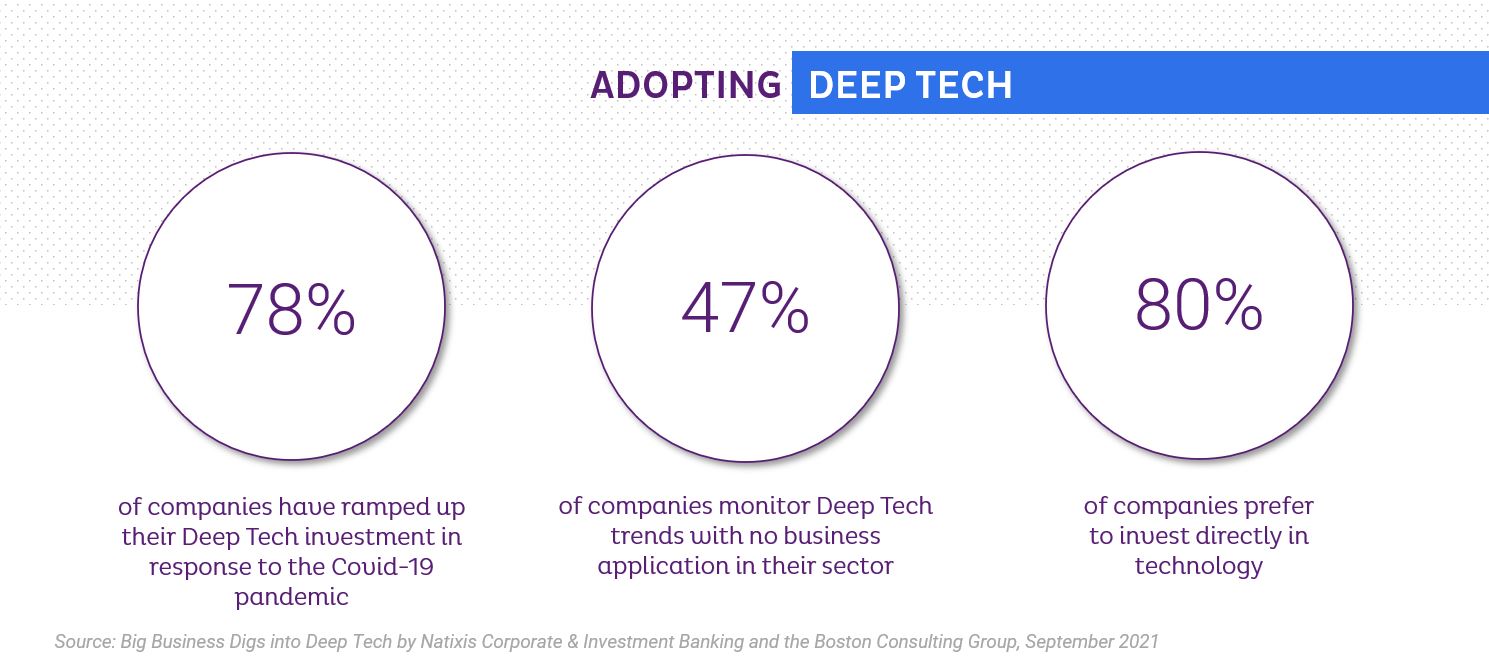 WATCH BFM BUSINESS INTERVIEW OF THIBAUT CUILLIÈRE, HEAD OF REAL ASSET RESEARCH
---
EXPLORE TECH 2021
Almost 300 clients and business leaders, media stakeholders, and tech and finance sector experts took part in the first edition of Explore Tech in Paris on September 30th. This event showcased Deep Tech and was an opportunity for participants to discuss the latest sector trends, as well as the challenges that lie ahead, with input from prominent speakers such as Cédric O, the French Minister of State for the Digital Transition and Electronic Communication, Luc Julia, Group Chief Scientific Officer at Groupe Renault and Jean-Louis Gassée, formerly vice-president at Apple.
THREE QUESTIONS TO ALAIN GALLOIS « Digital challenges must become an investment priority »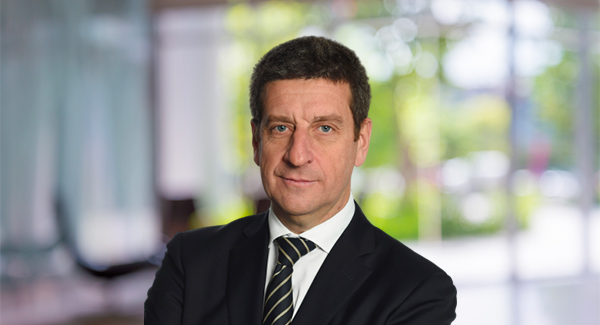 Alain Gallois, Global Head of Coverage and Head of EMEA (excluding France) at Natixis Corporate & Investment Banking
What do clients need to initiate their digital transition? 
Most of our clients in Europe and worldwide are currently facing several megatrends from among these main trends i.e. digital and environmental transitions. To tackle this situation, they need to adapt and embark on a vital phase of transformation, which requires investment and structural change, both for companies' various business units and their digital departments. Tech presents a major challenge in terms of cost, performance and data management, and return on investment is not instantly visible for now. This presents a key challenge raised by many clients: they are not yet reaping the rewards of their digitalization efforts – for example on their share prices. We are not seeing enough assets or funds that focus on tech just yet, but this situation is soon set to change as interest is growing on the markets, while we are also seeing moves to adapt. We are witnessing the same trend as for green bonds, which were not very popular 10 years ago: it's just a matter of time. This is why we feel that the markets need clearer visibility and a framework for this sector. Aspects that currently seem 'nice to have' will become 'must haves' in the future. Following in the footsteps of green finance, awareness is growing, and decisions are taking shape. Digital challenges must become investment priorities.
How do you support your clients in this approach?
We support all our clients – regardless of whether they are specialized in tech or not – ranging from start-ups to large groups and even tech giants such as the GAFAM companies. It is crucial to offer them solutions and services that are tailored to each individual situation. For example, we support start-ups in their fund-raising capabilities, and small caps in the tech sector by drawing on their strong relationships with the Banques Populaires and Caisses d'Épargne. We also work alongside large tech companies to offer them a customized service. Similarly, our clients from non-tech sectors have moved forward in leaps and bounds in their digital transformation, and with this in mind we are building a Tech Hub to offer financing solutions and a number of financial arrangements such as IPOs, M&A, fund-raising etc. that support their growth goals in the digital arena.
Can you give us an example of clients you have recently supported in their digital transformation? 
Our teams work to support all types of sectors facing technology challenges. Recently we supported Carbios which is a French green chemistry company that develops biological and innovative processes and specializes in developing enzymatic recycling processes for plastic materials. This technological innovation to break down and recycle plastic is part of the cleantech and greentech ecosystem that we support, and we accompanied this company in its IPO. This type of deal perfectly addresses the environmental and digital challenges that many companies face. I could mention other projects in agritech for example: we worked with one of the world food and agri-business leaders Olam to assist in its digital program, setting up an innovative loan where pricing is linked to the company's digital maturity score (Digital Advanced Index).
KEY NOTIONS
Deep Tech: the term describes new companies, start-ups and disruptive companies that rely on highly innovative technologies. Gene sequencing, artificial intelligence, biotechnologies, blockchain, robotics, quantum electronics and computing are deemed to be Deep Tech sectors. Three major criteria define companies that develop Deep Tech i.e. they offer products that provide high value-added on their markets, they operate disruptive technology that is often patent-protected, and they work in close cooperation with research.
Blockchain: blockchain is a bit like a large register that records all exchanges and transactions conducted between users. Time-dated entries are recorded chronologically in blocks from the first to the last transaction, and information is publicly available. In more concrete terms, this system enables users to store and send digital information transparently and securely at a low cost, with no need for a supervisory body or trusted third party.
Tokenization: based on the blockchain, tokenization is a way to value and convert real-world assets into digital assets or tokens. They can be exchanged on a peer-to-peer basis without duplication and agreement from a third party, like cryptocurrencies. There are two types of tokens: security tokens and utility tokens. Security tokens provide an opportunity for companies to increase their capital without the requirements involved in more traditional stock-market and financing processes. Utility tokens are a way for companies to pre-sell their products and services, and can be used for fund-raising by entrepreneurs for example.
Venture capital: venture capital is part of the broader private equity industry and specializes in financing innovative start-ups with strong growth potential.