#Business
#Sustainable Transition
#Business
#Sustainable Transition
Marking European Sustainable Development Week and the second anniversary of the signature of the Principles for Responsible Banking (PRB), Natixis reiterates its longstanding commitment to the ecological, social and societal transition.
Natixis' business lines have pledged to ramp up their ambitions to support the ecological transition as part of the company's broader strategic plan, with the aim of reducing the climate impact of financing deals to meet the 1.5°C temperature trajectory by 2050, as set by the Paris Agreement. This also includes an intermediate goal of 2.5°C by 2024. Meanwhile, Natixis' teams are fully mobilized to take on board environmental, social and societal challenges.
Commit to the energy transition and to responsible finance
Louis Douady, Global Head of ESR at Natixis explains that "Financial institutions fund, invest and insure substantial amounts and as such they can wield major influence. Natixis is committed to combating climate change that is currently threatening our planet and the future generations."
Steering our business lines' transition
We have taken steps to actively manage the transition of our balance sheet and our financing transactions by drawing on our internal Green Weighting Factor methodology – an inhouse mechanism promoting financing deals with a positive climate and environmental impact – to tackle crucial climate change challenges and support our goal for carbon neutrality by 2050.
Natixis is a go-to financial partner: in its capacity as a financial institution, it plays an active role in developing green and sustainable finance across all its business lines. Natixis Corporate & Investment Banking aims to multiply revenues from sustainable finance products and services by 1.7 times by 2024.
Here at Natixis we also set environmental, social and governance criteria (ESG) at the center of our asset management business with Natixis Investment Managers.
Natixis Assurances is the first insurer to take pledges to align its investment policy with the Paris Agreement, and targets a 1.5°C temperature trajectory out to 2030. Each year the company sets aside 10% of investments for green assets, which are set to equate to 10% of total assets by 2030 at the latest.
Reducing our direct environmental footprint and mobilizing our teams
As part of our broader corporate responsibility program, we take concrete action to curb our direct environmental impacts with the aim of trimming our carbon footprint per employee by 20% by 2024 vs 2019.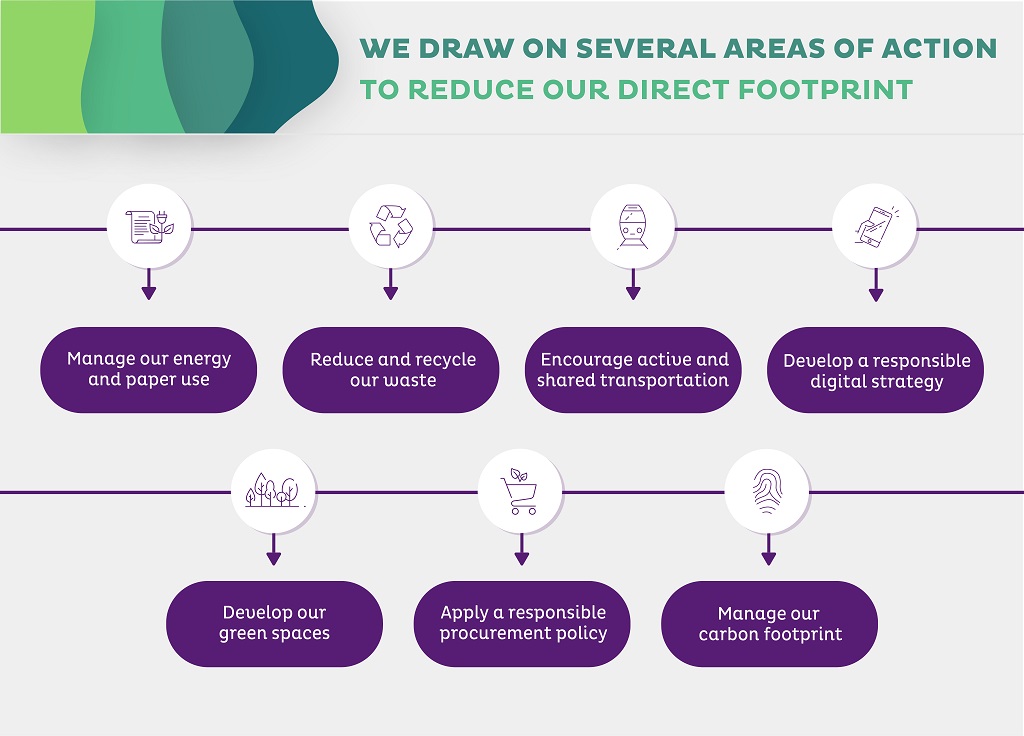 Our people in France and internationally play a key role in reducing our carbon footprint, as they are mobilized to support these various environmental challenges. With this in mind, we have rolled out a mandatory e-learning program for all staff to raise awareness and offer training in ESR and sustainable finance.
Drive our transformation and support our people in their engagement
"In today's fast-changing environment, new technologies, regulation and the energy transition are changing our people's jobs and skills at an unprecedented pace. So it is crucial to support each and every one of our staff as they play their role in this transformation, develop new skills and build an attractive working environment that helps us work as a community to support our clients", says Cécile Tricon-Bossard, Chief Human Resources Officer at Natixis.
Developing the skills of the future and supporting our people into the jobs of tomorrow
Natixis has rolled out two programs to address this new paradigm: Jobs in motion to support staff in acquiring the skills of tomorrow, and the Step up Academy to train for the jobs of the future, particularly in strategic areas such as technology, data and ESR.

Providing our people with a motivating working experience
Hybrid working practices have become the new normal following the Covid-19 crisis. The WELL program reflects this extensive transformation in the way we work and seeks to enhance our collective efficiency and the employee experience, while also curbing our environmental footprint.
Our diversity is our company's strength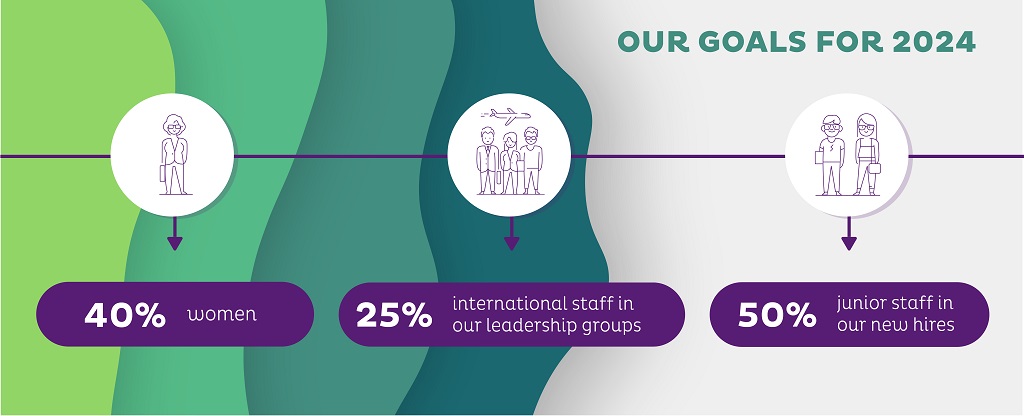 Supporting our people as they get involved
Natixis has developed a number of partnerships with associations worldwide to combat poverty, promote social inclusion and safeguard the environment. We have developed a range of solidarity-driven initiatives and offer our people the opportunity to get involved via various programs i.e. workplace giving, solidarity day, skills sponsorships, etc.
We took our approach further when we set up the Natixis Foundation in December 2020. The foundation seeks to support our staff in getting involved to support a just transition as it backs sustainable impact projects in the areas of both the environment and solidarity.