Rida El Mouedden – a recently appointed accounting expert leader – has never experienced his disability as an obstacle to his career at Natixis or an impediment to his charity involvement. It all actually helps him fully pursue his activity.
Rida El Mouedden made it into the top 3 BPCE ambassadors in 2020 – a group of staff who promote the Groupe BPCE's businesses with younger people – as he takes part in 10 or even 20 individual meetings outside work each month. Our accounting expert leader here at Natixis tells us: "I got involved in this volunteer program over the past year via Natixis' partnership with My Job Glasses, a start-up that puts students in touch with professionals, and I really enjoy it". He has also just volunteered to mentor a young job-seeking graduate via the NQT organization (Nos Quartiers ont des Talents), which Natixis also supports.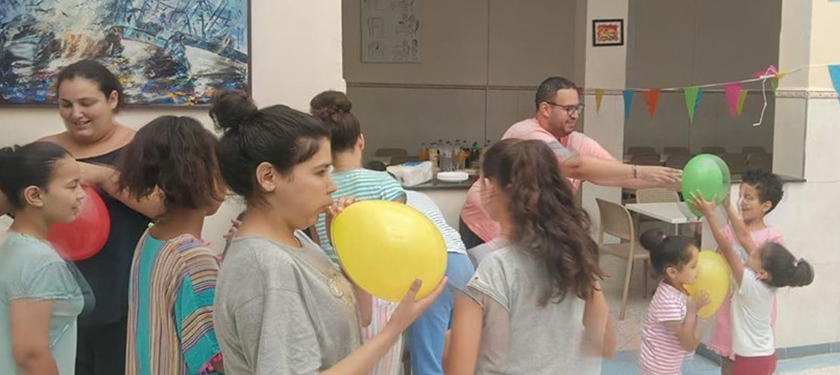 Rida El Mouedden intervenes in orphanages here in Essaouira in Morocco with the association Les petits frères de l'Atlas
These are most definitely not Rida El Mouedden's first steps in charity work. He has actively supported various charity initiatives over the past several years in a personal capacity, such as Network'in Sevran, which helps individuals into work, Les petits frères de l'Atlas, a group that backs three orphanages in Morocco, and SoliTudiant run by workplace insertion charity Handicap Travail et Solidarité (HTS), a student challenge to promote employment for staff with disabilities – a matter particularly close to Rida's heart, as he has had a disability for ten years.
Looking for a company that welcomes staff with disabilities
"I suffered medical complications from routine surgery in 2010, and unfortunately this left me with certain lasting difficulties" explains Rida, aged 35. "I was really lucky to have a lot of support, but I really wanted to get back to work quickly to keep my spirits up". He was a client accountant in an industrial safety company at the time, but the company did not have a disability advisor. Rida had to make the necessary arrangements himself to keep on working, with input from programs to help disabled staff stay in the workplace Comète and Sameth.
I instantly felt most comfortable at Natixis, disability just isn't an issue here
"After I went back to work, I very quickly felt that there were no real career development prospects in that entreprise". He started looking for a new job and received offers from four employers in very different business sectors. Straight out, Rida tells us: "I instantly felt most comfortable at Natixis, disability just isn't an issue here. Managers are aware of disability and had no problems making the necessary arrangements for my workstation – they were simply interested in finding the right profile, the right personality and of course the right skills. I really appreciated the caring attitude from both the teams and my managers. Here I feel like my co-workers see me, not my disability."
Since Rida joined Natixis in 2014, he has enjoyed regular support from the Group's disability advisor as well as an ergonomist. With remote working becoming the norm during the pandemic all the equipment he needed was set up for him at home: "Natixis welcomes staff with disabilities in every respect and takes care to create the best possible working conditions, with a particular focus on staff recognized as disabled workers. Personalized support is available for a whole range of disability-related questions, like mobility to get to work, and arrangements on working hours and equipment", explains Rida.
A flawless track record
The greatest appeal for Rida here at Natixis is the opportunity to change job within the company: "I had no banking expertise when I joined Natixis as an accounts controller in 2014, but I have now just been appointed accounting expert leader, which means working as an accounting expert in the Group and an inhouse trainer for new joiners." 
Rida was born in Rouen, and spent most of his childhood in Boulogne-Billancourt (Hauts-de-Seine) and Ermont (Val d'Oise). He has always had a real passion for math and figures, so after his high-school studies in economics and social sciences, he took a degree in management ("a good way to combine theory and practice"), then a Master's in finance in a vocational training program during his time at Honeywell Safety Products after his accident – a flawless track record. "I have no regrets on my education, but I do wish I had met someone who challenged me to take a more ambitious education program after I finished high school. That's why I work with young people – I want to encourage them not to be afraid of aiming high and going for more challenging courses".