Today, on April 22, we are celebrating the 51st anniversary of "Earth Day". This environmental movement, initiated in 1970 by the American Gaylord Nelson, is an annual global event. It seeks to encourage action to take care of our planet.
New perspectives for dealing with environmental challenges are opening up this year under the effect of the pandemic, which is serving to accelerate recognition of the issues. The pandemic is prompting us to rethink our economic model. Growth and ecological transition now go hand in hand. Europe, which is already well in advance on these subjects, has just adopted the target of a 55% reduction in greenhouse gases by 2030 in order to reach carbon neutrality by 2050. This agreement will be incorporated into the Climate Law currently under preparation and which will set out the measures to be adopted to achieve this target. In France, for example, €30 billion out of €100 billion will be devoted to upgrading the energy efficiency of buildings, developing clean forms of transport and renewable forms of energy, particularly hydrogen, and supporting agricultural transition in the interests of healthier and more local food.
The big comeback of China and the USA
2021 has opened with the return of the two biggest greenhouse gas emitters – the USA and China – to the fight against global warming. During John Kerry's visit to Shanghai on 18 April this year, the two countries issued a joint statement in which they committed themselves to cooperating "with each other and with other countries", in order to attain carbon neutrality.
The environment is one of Joe Biden's priorities and the USA rejoined the Paris Agreement right from his arrival at the White House. The infrastructure investment plan approved this March is to devote half its budget (or one trillion dollars over eight years) to fighting climate change. This marks a historic break with the US's previous major stimulus plans that never really afforded much space to the environment. In practice, the USA is aiming for fully-decarbonized electricity production by 2035 and a "zero-emission" economy in 2050. These measures, while of unprecedented magnitude, remain subject to controversy, due to the lack of a clear position on shale gas extraction and the inclusion of nuclear in energy-mix targets. "The USA is bound to experience a period of transition. Those states heavily reliant on fossil fuels are not going to shift completely to renewable energy from one day to the next". Joseph Lavorgna, Chief Economist for the Americas region, Natixis.
China, the world's largest greenhouse gas producer, created a surprise in September 2020 by committing itself to a target of carbon neutrality by 2060. In December, it announced intermediate targets (by 2030) at the UN virtual climate summit, i.e. a more than 65% reduction in carbon intensity (CO2 emissions relative to GDP) compared to the 2005 level, and decarbonized energy (including nuclear) representing 25% of primary energy consumption versus 15.3% in 2019. More recently, on February 1, 2021, China launched a carbon emissions trading system, the objective being to encourage the biggest-polluting companies to limit their emissions. "China is doing its best, but it's extremely hard for such a big country to accelerate its energy transition. It remains heavily reliant on fossil fuels, despite being the world's leading producer of hydroelectricity and solar electricity". Alicia Garcia Herrero, Chief Economist for the Asia-Pacific region, Natixis.
Find more about: The United States and China: the big comeback in the green economy 
The pandemic, accelerating recognition?
The pandemic is leading us to question the way we live, produce and consume. If households have the idea in mind that fairer and more sustainable consumption is now necessary and that natural resources are not limitless, where do companies and institutional investors stand on this?
Corporates looking for transition solutions
A growing number of companies in all sectors of activity are incorporating the concept of sustainability into their growth strategies and seeking to quantify the environmental or social benefits of their activities.
Natixis commits to helping clients with their transition
Companies are making increasing use of green, social and sustainable products, and products whose returns are linked to the attainment of sustainability targets (sustainability-linked). Investors also have an increasing appetite for these products. The market has reached an amount of $1.4 trillion in a decade, including a record $490 billion in 2020. 
Natixis's teams are geared up to develop products and services that help our clients manage their transition and achieve carbon neutrality. Natixis is playing a key role in the development of sustainable finance, through the preparation of the Sustainability-Linked Bond Principles and the arrangement of numerous major market deals.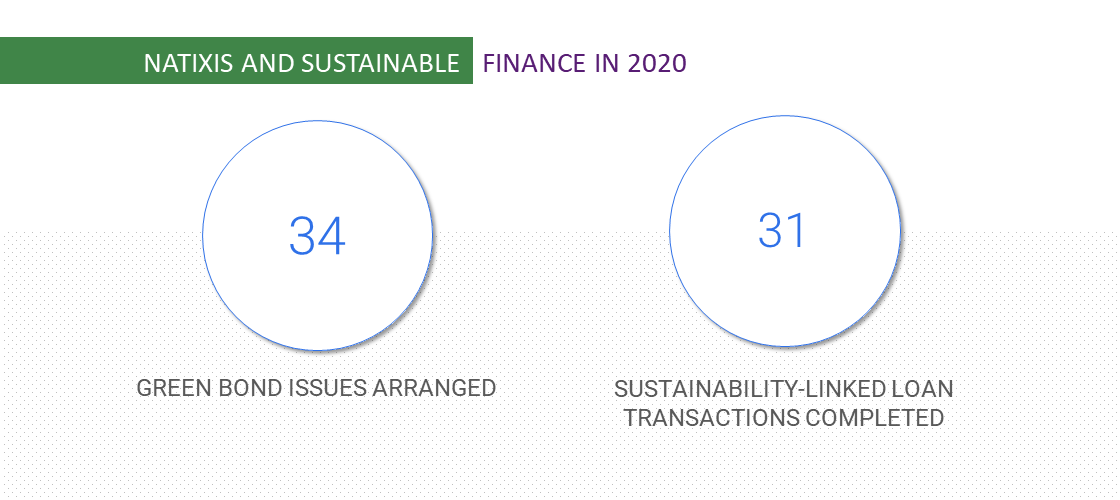 A few headline deals
Sustainability-Linked Bond for Enel

Natixis supported Enel in a €10 billion sustainability-linked bond issue. The funds will be used to respond to the "affordable and clean energy"[DK1]  Sustainable Development Goal (SDG). The bond is linked to the "percentage of installed renewable energy capacity" performance metric, the objective being to reach 60% by December 2022.

Sustainability-Linked Loan for Touton
Natixis completed the first Sustainability-Linked Loan for Touton, a company specialized in commercializing and transforming agricultural commodities (cocoa, coffee and spices). Sustainability objectives were incorporated in order to support the introduction of a responsible logistics chain.

Financing based on ESR criteria for Trafigura
Natixis supported Trafigura in its first financing linked to sustainable development performances. Three metrics were employed: the reduction in greenhouse gas emissions, a responsible procurement program extended to all Trafigura's activities and development objectives for the company's renewable energy capacity.

Impact investment for l'Oréal
Mirova was mandated by l'Oréal, the world's biggest cosmetics group, to manage a €50 million impact investment. The investment is designed to respond to urgent social and environmental issues and will be used to fund projects geared to restoring damaged natural marine and forest ecosystems.
Investors on the lookout for responsible investments
A survey conducted by Novethic reveals that 52% of large European investor signatories to the PRI (Principles for Responsible Investment) know about the SDGs and refer to them in their commitments.
Natixis IM offers investors long-term value-creating solutions incorporating sustainable development issues and by taking into account environmental, social and governance (ESG) issues in their investment strategy.
To learn more: Hear Joseph Pinto, Natixis IM Global Chief Operating Officer on the business imperative of focusing on our planet and future generations
Regulatory progress in Europe
Since the entry into force of Europe's Sustainable Finance Disclosure Regulation (SFDR) on March 10, 2021, financial market operators and financial advisors have been subject to an obligation of transparency concerning their entity, the products they sell and the advice they provide.
This new regulation rounds out the European legislative framework pertaining to the classification of economic activities (Taxonomy Regulation) and the introduction of sustainability criteria in market indices (Climate Benchmark Regulation) already adopted by the European Commission. These regulations now provide investors with greater transparency in terms of sustainability and give financial operators a framework of reference for avoiding greenwashing.
Our ESR engagements
To guide our ESR strategy, and particularly to contribute to protecting the environment, Natixis committed to a set of international engagements, amongst which:
The United Nations Global Compact, since 2007
The Principles for Responsible Investment (UN-PRI), since 2008
The Principles for Responsible Banking (PRB), since 2019, and within this framework, the  United Nations Collective Commitment to Climate Action (UNEP FI) which seeks alignment with the Paris Agreement trajectory
The Act4Nature commitment, comprising specific performance metrics for protecting biodiversity.
Our engagements for the climate and biodiversity
Convinced of the urgency of decarbonizing the economy and aware of our responsibility as a financial player, Natixis is heavily engaged in the fight against climate change.
In 2019, Natixis joined the Collective Commitment to Climate Action (CCCA) as a founder member within the framework of the Principles for Responsible Banking. At the same time, Natixis became the first bank to actively manage the climate impact of its balance sheet, by means of its Green Weighting Factor,  through which we pledge to align the whole of our financing portfolio with Paris Agreement targets.
Since then, Natixis has also mobilized its business lines in favor of biodiversity, becoming the first bank, in 2020, to make tangible, measurable and managed commitments over time to safeguard biodiversity and nature through our activities. Biodiversity issues have gained in prominence since the onset of the health crisis and the spotlight this has cast on the link between human health and the destruction of nature.
Our contribution to the Sustainable Development Goals (SDGs)
We contribute to 13 of the 17 SDGs defined by the United Nations in 2015, through the exercise of our investment and financing activities, as well as through our operations.
The health crisis we have been experiencing for over a year has accelerated recognition of the fragility of our environment and the need to act to protect the Earth. Natixis is continuing its engagement and harnessing all its business lines in order to contribute to a sustainable future.
Louis Douady, Head of Environmental and Social Responsibility (ESR) at Natixis
Our key ESR performance metrics