Digitalization in today's corporate world is revolutionizing a number of business lines, and like most companies, Natixis must innovate and create new roles. This means supporting staff in both upskilling and staging complete career change in the company via reskilling. We hear from Cristel Guillain, Head of Natixis' Reskilling Program.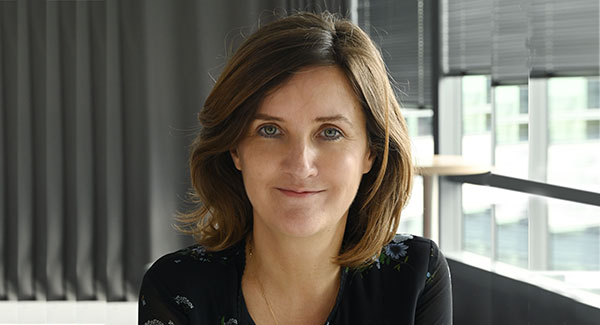 CRISTEL
GUILLAIN
Head of Natixis' Reskilling Program
What are the challenges for your upskilling and reskilling program – the Step Up Academy?
The world is changing, and the way we do our jobs is evolving too. Some of today's roles will actually disappear in the future as new jobs and businesses emerge. We had launched our upskilling and reskilling program long before the health crisis struck, as we realized that we were not drawing all the potential benefits from the various transformations that are currently under way, as we did not have all the skills we needed inhouse to fully leverage new technologies, our clients' changing needs and even new ways of working. The health and economic crisis accelerated this change, as we now need to further enhance our performance to succeed, and seek out the skills that our business lines need to create value.
How can we find these new skills?
Well we can either recruit new staff or we can develop these skills within the company, which is the goal of our program, as we believe that it makes sense to support our people in moving into the jobs of the future. On the one hand, this is attractive for staff themselves as they develop their skills and become more employable, while on the other hand, it is always more efficient for companies to train staff who are already familiar with their corporate culture, systems and processes.
Last year, you tested out an upskilling and reskilling initiative with 40 staff from our Technology & Transformation businesses. What lessons did you draw from this experience?
This was a really useful learning experience for us and helped us improve our program this year. For example, we trained certain staff and then offered them new roles, but this was not effective enough. So for the second group in our Step Up Academy program, we have decided to open all the positions first, and then select inhouse candidates – there are still around 35 jobs to fill by the end of the year. Once candidates are selected, they start their new positions straight away and kick off a program that alternates training and work, with the support of a mentor in their new teams. This means they can combine theory and practice.
How do you identify inhouse candidates who would be interested in this type of career conversion?
Staff can see open positions in this program on our inhouse job page and decide if they want to apply. Then it's up to us to determine if they have the right profile to change job or even undergo a complete conversion. By definition a career conversion means that they have never done the job, so the selection process is not based on their technical skills but rather their soft skills, their motivation and their ability to adapt to an entirely new context.
How do you encourage staff to move within the company?
Cristel Guillain: We draw on the Jobs In Motion program to change the perception of inhouse job mobility here at Natixis. Alongside the Step Up Academy process, we will also offer other ways to take a less structured approach to job mobility by setting up a system based on data analysis to match our staff's skills and interests with the new jobs we need to fill.