#Culture And Talents
#Digital And Innovation
#Emea [en]
#Sustainable Transition
#Culture And Talents
#Digital And Innovation
#Emea [en]
#Sustainable Transition
Now more than ever, real estate is at the forefront of the extensive economic and social transformation resulting from the Covid-19 pandemic. Here Sophie Février offers us her take on the main challenges facing office real estate and her views on creating the workspace of the future, as she talks about one-stop shop, re-use, and the lessons that can be drawn from the health crisis.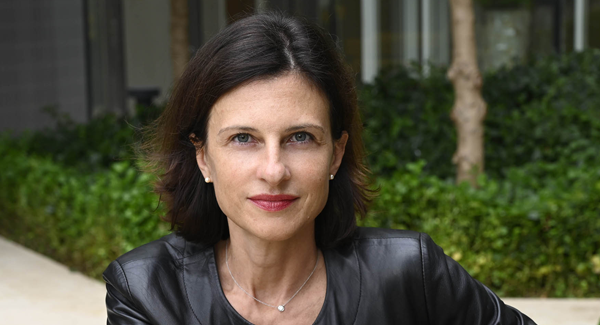 SOPHIE
FéVRIER
Head of teams and operations in the real estate and logistics department within Natixis' Technology & Transformation entity
How would you define the new Workplace entity that you manage?
Workplace's role is to support Groupe BPCE and it is tasked with contributing to the development of the group's strategy. Regardless of the challenges – economic, business, inclusion, attractiveness or image – we support Natixis' actions plans as well as the strategies for the various entities comprising the BPCE Community**. The working environment must be seen holistically – for staff and visitors, it houses workspaces and furniture, but it is also home to technologies, systems and services that are available to our teams. We want to firmly put ourselves in our users' shoes to ensure that we address their full range of needs, which is why we brought together our teams' wide range of expertise in real estate and corporate services – Workplace's traditional businesses – with the skills of our co-workers at IT infrastructure and digital systems. Our Workplace entity aims to be the Expedia of the working environment in some ways – a sort of one-stop shop* – and to serve this goal, we promote our experts' knowledge, setting up a product team and a user relationship management team to support them.
What has changed in your line of work?
In the past, when we organized a meeting with ten people at the table, the meeting room needed to be available and clean: and if the technology didn't work or the coffee got cold, it was unfortunate, but not necessarily very serious. Now we frequently have meetings with some participants working from home, or working in other buildings, we work on documents that we share and change in real time. Users have become more agile, more digitalized, and have less time, and this means that they now expect more. They need fully operational and integrated services, whether meeting rooms, screens, secure connections, catering services or input from external participants. We need to manage this complexity for them and offer them a seamless experience, for example with a single email address to manage all their requests. Our work has an impact on a vast number of people, and we must embrace this responsibility, while also adapting to take on board societal and technological changes. For example, we can now reduce our buildings' energy use, and also offer our staff with a disability a comfortable working environment where they can work effectively.
How did you manage the first Covid-19 lockdown period?
We were extremely involved in helping manage the crisis. Initially, we just felt our way through it like everyone else, but we then managed to adapt to the situation without losing productivity, as we temporarily shut down most of our buildings and occupant services. Workplace teams worked flat out as at the height of the crisis we ensured that all buildings that did stay open operated smoothly and that staff who worked there could feel safe. Lockdown was also an opportunity to take our digitalization strategy a step further, as we enabled our call handlers to work from home as a result of efforts from our IT partners, for example. We also improved the way our networks work overall.
Emerging from lockdown was a different stage …
Emerging from lockdown was challenging for everyone, and the Workplace teams were no exception to this rule. Across Groupe BPCE, we had to source and distribute masks, gel, roll out cleaning protocols and implement the appropriate catering programs, but our role first and foremost in this situation was to reassure our staff. We actually set up an app and a chatbot to answer the various questions staff had about returning to the office. There were also some really positive experiences that we absolutely must hang onto – mail management and digitalization are a good example, with a decrease in mail rounds in our buildings and perhaps in the future the elimination of the infamous mail trays. Office cleaning has also changed: previously, we did not necessarily want to have cleaning during office hours, but now our staff are interested in this interaction with the people behind the upkeep of their workspace. There is a truly positive change in perception and a shift towards greater inclusion.
What lessons have you learnt over these past few months?
Well we all saw that remote working works! We were also able to look into some really important questions – which buildings are crucial, where are our vital operations, what can we temporarily suspend, which staff absolutely must be in the office? By considering all this, we were able to reduce our office occupancy, make energy savings and limit risks. Lockdown was also an opportunity to rethink our buildings and our staff's mobility between these office locations, so we now need to think about the new set-up that this change means.
Is this the end of assigned individual offices?
We may think that it is important to have our own office, but the trend really is towards a collective intelligence approach. When you think about it, our working days are a series of phases, and if we add them up and allocate the space required, each person would need on average 40 m2. However, we do not need to be alone all day – during the day, we move around and choose different spaces depending on our needs at any given time. I do not have a set office, but I can work anywhere – in meeting rooms, or small more isolated bubbles, or more informal relaxation spaces. Our new ways of working are more agile, more collaborative, and they provide for much greater flexibility in our organization. The office routine has evolved. As the employees can work at home every bit as well as in the office, so being in the office really needs to offer our people some value-added and experiences that truly stand out.  
Should the office real estate sector get ready for some major transformation?
Yes, definitely! Real estate is a way to truly transform the working experience, and this means that Workplace teams need to be familiar with the various businesses across the BPCE Community and at Natixis, so that we can support them to the best of our ability in their new ways of working. A building is also a way to express what you want to be, to embody a company's ethos and make an abstract idea concrete: for example, increasing collaborative workspace from 30% to 60% shows that teamwork is an important feature. An office building can also be seen as a medium – it's very visible, you put your logo on it, and you create an experience for those who walk past it,or walk through its door. It automatically communicates a message to clients, visitors and staff, so this is a really important aspect, particularly if you also want to optimize your real estate footprint.
What exactly is a real estate footprint?
The real estate footprint describes our buildings' and structures' use of resources and the impacts they create. When we consider our environmental footprint, this means thinking about how many square meters we use and whether we are economical in our use of space. The next big real estate revolution is the green movement, and we have already made progress in this area: we won two medals in the Cube 2020 challenge last year, an energy saving competition organized by the French building energy performance institute with one of our Parisian buildings located at 47 Quai d'Austerlitz. This year, we are also taking part with two other buildings in the running – Charenton-Le-Pont in France and Porto in Portugal. It is important to understand that for a long time the green movement was about using our resources well, but now it's about using fewer resources – and this means re-use.
What does the re-use concept involve and how do you apply it?
Re-use is all about trying not to produce waste, trying to avoid excess, and reducing our carbon footprint. In partnership with the ESR teams, we are currently making a list of all the items in our buildings that could be re-used in future moves. Take the example of a screen – an enormous amount of pollution is created when manufacturing a screen, so the best strategy is to avoid buying a new one, but rather having the technological resources to upgrade it so that it can be kept for longer. We need to think about how we can use fewer resources – furniture, IT, printers, paper, even staff catering. This principle of more economical use of resources is vital, and the way we use our office spaces is a natural continuation of this. Workplace's role takes on its full meaning when we consider Groupe BPCE's targets on greater efficiency. This is what we are working towards, as we create and uphold our staff's office experience in the greater Paris area.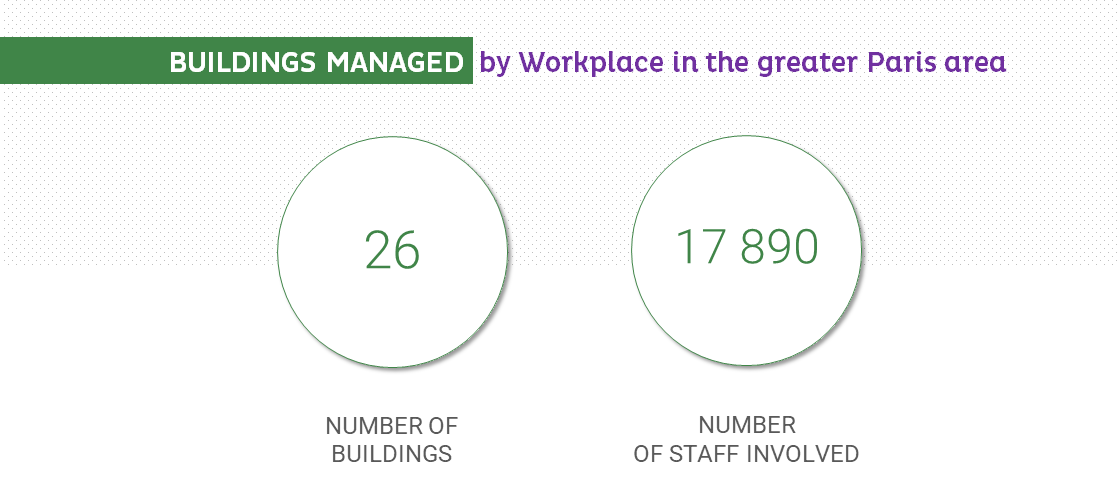 * A one-stop shop is a business or office where multiple services are offered; i.e., customers can get all they need in just "one stop".
** The BPCE Community comprises eight entities, with a wide range of business lines and expertise, which sit at the heart of the group's transformation: BPCE SA, Financial Solutions and Expertise division, BPCE Infogerances et Technologies (BPCE IT), Informatique Banques Populaires (i-BP or Banques Populaires IT), Informatique et Technologies Caisse d'Epargne (IT-CE or Caisse d'Epargne IT), BPCE Achats (Purchasing department),BPCE Solutions Crédit (Credit Solutions), BPCE Services Financiers (Financial Services).