#Business
#Digital And Innovation
#Business
#Digital And Innovation
The worldwide exponential growth of teleworking is one of the many consequences of the coronavirus. As of today, it is affecting tens of millions of employees under lockdown in Europe, the United States and Asia. In a cross-national study conducted by Harris Interactive*in April 2020, 42% of employees surveyed are now working from home, of which 75% are teleworking for the first time.
Teleworking is therefore a huge adjustment for a large number of employees today, and the unprecedented global crisis that we are currently experiencing has made it a widescale phenomenon. Beyond safeguarding health and safety in the current situation, teleworking offers genuine benefits and could result in long-term structural change to future ways of working.
Nadine Ligavant, Employee Engagement and Work&Life manager, and Gilles Merret, Head of HR Shared Services at Natixis, share their views on teleworking.
The current COVID-19 crisis forces companies to review their organization with the large-scale implementation of teleworking. Did you feel that you were adequately prepared for such extraordinary circumstances?
Nadine Ligavant: In response to the coronavirus, Natixis quickly rolled out teleworking practices for all its employees. We were reasonably prepared, as nearly 6,000 employees in France were already teleworking before the crisis. We started to experiment with teleworking in 2014, signing our first official agreement in 2015. After years of test & learn practice, we've implemented a smooth and effective system specifically tailored to business continuity plans. On top of this, three years ago, we decided to supply most of our workforce (including employees who don't normally telework) with laptops to ensure secure and mobile ways of working.
Gilles Merret: Nearly 90% of Natixis' staff now works from home. This means we've doubled our teleworking capacity since the beginning of the crisis. We were able to swiftly send out 1,100 laptops to employees who didn't have access to one at home.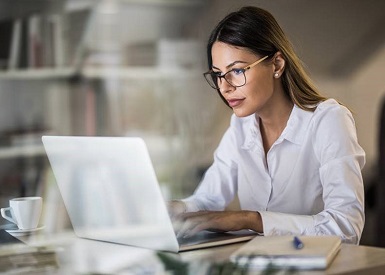 What are the benefits of remote working for both employees and their managers?
N. L.: In the current situation, remote working's main strength lies in protecting employees from health-related risks. Overall, teleworking as such, allows employees improve their daily quality of life and well-being, provides room to breathe during the week, to organize their time and tasks better over longer periods. Our regular in-house surveys show that most employees feel that they both focus and perform better when they work from home.
G. M.: Through remote working, Natixis stays agile, ensures business continuity and maintains its high-quality customer service. We create a virtuous circle: remote working fosters employee commitment, thereby synergizing teamwork, which in turn fuels collective responsibility. This forces managers to better anticipate priorities and specify expectations in terms of targets.
Current events will probably force companies into reviewing, or rather improving, their ways of working. What are the obstacles to delivering even better remote working performance in the future, and how can we best overcome them?
G. M.: The main concern is the loss of social interaction, particularly in the current lockdown period. The Harris Interactive* survey revealed that a third of remote working employees feel that there is less camaraderie and team spirit, which leaves them feeling isolated. But experience shows us that when employees return to work in the office, they're all the more motivated and committed. They align even more with company corporate culture. In the weeks ahead, our challenge is to keep team spirits high while never losing sight of the need for humanity in our communication.
N. L.: The sudden, abrupt transition to 100% home office was not without difficulties, and even organizations that were ahead of the game in terms of teleworking have had technical issues. A few employees have experienced server connection problems, but they're few and far between. Thanks to the rollout of increasingly robust infrastructure and easy-to-use tools, we're making steady progress. Current events provide an opportunity for us to review our ways of working⁠—how we leverage digital tools as well as our daily work rituals. What seemed impossible just days or weeks ago is now not only possible, but indispensable, out of pure necessity. I think, and sincerely hope, that something positive and sustainable will come out of this crisis.
*Study: "The workplace in 2020: The new ways of working during lockdown." Conducted by Harris Interactive with 50,000 respondents based in seven countries: France, the United Kingdom, Germany, Italy, Spain, the United States, Australia.
Remote working vs. teleworking: what are the differences?
We tend to use these two terms interchangeably, but there's a key distinction: teleworking is actually just one of many ways of remote working. Teleworking implies an agreement set up between employees and their employer on a voluntary basis.