With the crises of the last decade firmly in the past, Spain and Portugal are benefiting from the increased confidence of financial institutions and multinationals. Natixis too is continuing to grow its business in the countries, primarily across Asset Management and Corporate and Investment Banking, deepening its commitments towards its clients in line with its New Dimension strategic plan.
The sun is shining again on the Iberian Peninsula
Analysis by Jesus Castillo, Economic Resarch Natixis / Spain and Portugal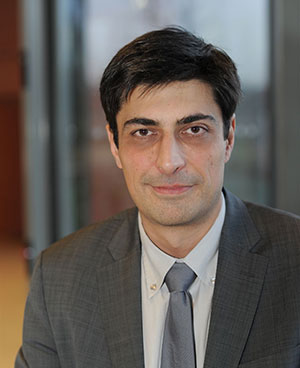 The Iberian Peninsula has once and for all closed the door on its most serious economic crisis since returning to democracy in the 1970s. Although the legacies of past deep imbalances (unemployment and high debt) have yet to be overcome, Spain and Portugal are now showing enviable economic momentum with growth rates among the highest of the major countries within the European Economic and Monetary Union. Although painful, the intensive reforms carried out for several years have paid off. The ongoing investment cycle, improved competitiveness and a buoyant external environment have helped to revive manufacturing activity. Investors had been wary of the two countries for a long time but are now flocking back in. In the future, on the basis of much more solid fundamentals, continued efforts to reduce the public and private debts inherited from the past will help to reinforce the balance sheets of all economic agents. The economic outlook for the coming years will remain positive.
How Spain and Portugal's GDP growth have outperformed Eurozone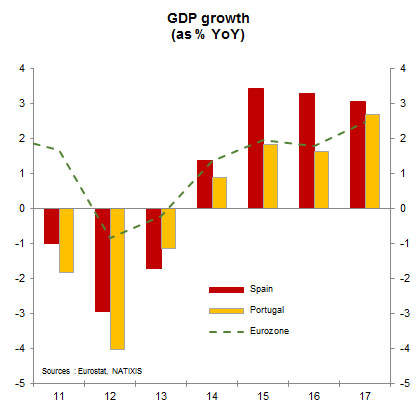 Spain and Portugal exports compared to global trade
The two countries are gaining market share since their exports increase faster than global trade.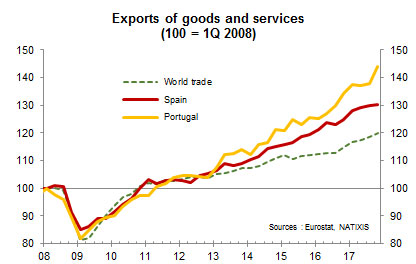 Supporting clients' business development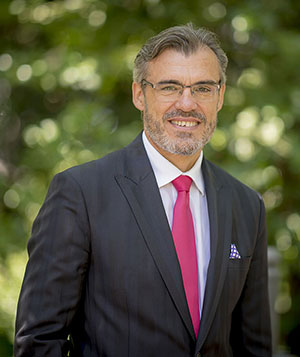 "Natixis provides diverse financial services spanning advisory, capital markets, financing and transaction banking. Our clients in Spain and Portugal include corporations, financial institutions, institutional investors, financial sponsors, public sector organizations and the networks of Groupe BPCE. 
We aim to establish a long-term strategic dialogue with each of our clients in the Iberian Peninsula, building close relationships through our strong local and international presence. We support our clients' business development by designing innovative, customized financial solutions that draw on the full range of Natixis' expertise and the technical skills of our teams.", says Carlos Perelló, Senior Country Manager, Spain and Portugal.
Natixis Partners #1 by value and joint 

#4

by number of transactions closed with private investors (such as private equity funds and infra funds) in Spain in 2017
Natixis #3 in euro-denominated public bond issuance (excluding self-led) for financial institutions in Iberia in 2017
Natixis #1 in sponsor finance in Spain by revenues in 2017
Asset management on the peninsula
Sophie del Campo, Head of Natixis Investment Managers for Iberia, Latin America and US offshore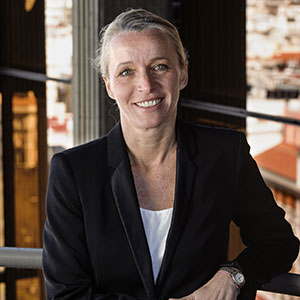 80% of Natixis IM Iberia activity in Spain is related to wholesale business (private banking, funds of funds) and 20% to institutional business (pension funds and insurance companies).
Some of our most important wholesale clients include Caixabank, Santander, Sabadell, Bankinter, and Andbank. Top institutional clients include the Andorran Social Security and large pension funds such as Fonditel, Caser, Santa Lucia and Geroa.
We offer our clients a range of active investment strategies from across our multi-affiliate model, including Ostrum AM (Euro short term credit), DNCA (L/S Equities), Loomis Sayles (Emerging market short term) Seeyond (Min variance), H20 (absolute return) and Mirova (ESG Equities).
Fund environment in Spain
The fund industry in Spain at the end of 2017 was €268Bn of AUM, out of which, 168Bn is invested in third party asset management. During 2017, third party funds grew €30Bn. 
Natixis IM growth in Spain / Portugal
Natixis IM was launched in July 2011 and at the end of 2017 managed around $3bn on behalf Spanish clients through a diverse range of investment affiliates.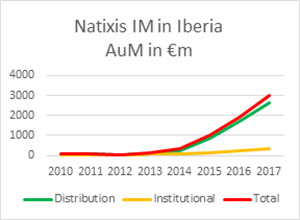 *Data as of the end of February 2018
Natixis IM is working in Spain, Portugal and Andorra with all the main financial entities and has signed already around 90 distribution agreements in Spain.
Natixis IM will continue to support growth in Iberia through strategic partnerships, development of the independent advisor client channel, and expansion of Natixis IM's portfolio consulting service. The Natixis IM Portfolio Research & Consulting Group has already completed more than 500 portfolio analyses for Iberian clients.
Asset mix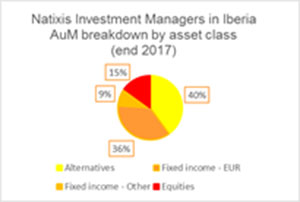 Focus on M&A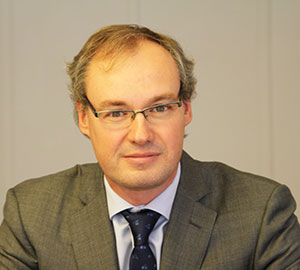 "It's been two exciting years since our M&A boutique joined Natixis and became Natixis Partners España. We are very proud of the success our firm has had with the support of Natixis at every level: locally with the great franchise Natixis is building in the Spanish market, internationally with our strong M&A boutique partners and local Natixis M&A professionals, and laterally through Natixis' sectorial teams that provide deep expertise in Energy & Natural Resources, Infrastructure, Aviation and Real Estate & Hospitality. There's a real momentum behind Natixis' drive to become a leading M&A house through a multi-boutique approach. The challenge is real, but the blocks we are building together make us believe in our common future success", says Daniel Escondrillas, Managing Partner, Natixis Partners España.
M&A multi-affiliate model: a recipe for success
CVC Capital Partners' acquisition of 25% of Compania Logistica de Hidrocarburos (CLH), announced in April 2017, was the first major transaction that Natixis and Natixis Partners España completed together. Natixis Partners España acted as CVC's financial advisor, while Natixis Madrid Branch was the sole arranger and underwriter of the acquisition financing.
The transaction is a casebook example of how our multi-affiliate model allows us to provide dedicated and bespoke M&A solutions to meet our clients' specific needs. In supporting CVC Capital Partners' bid, we had to ensure we were completely aligned with our client, which meant also being completely aligned internally between Natixis Partners España and multiple teams within Natixis such as Acquisition Finance, Global Markets and Syndication. It equally required commitment from our very top management, giving us the agility to respond quickly to requests from our client.
CVC Capital Partners' bid was successful, serving as a first demonstration in Spain of the mutual advantages that Natixis and its M&A affiliates draw from their partnerships, and ultimately the benefits that this allows us to bring to our clients.
Focus on Mirova, the affiliate of Natixis Investment Managers dedicated to Responsible investment
Mirova's infrastructure team invests in Portugal and has completed two deals 
On January 25, 2018, Mirova conducted the acquisition of ownership stakes of 23.8% and 35.2% respectively in ViaExpresso and ViaLitoral from several industrial sellers. These two concession companies operate a portion of Madeira's highways in Portugal.
>>Read Press release: Mirova's General Infrastructure Team acquires stakes in two highway concessions in Portugal: Concessionária de Estradas ViaExpresso da Madeira SA and ViaLitoral Concessões Rodoviárias da Madeira SA.
On 22 March 2018, Mirova announced the acquisition of a 25 MW photovoltaic solar project in Portugal. "We are confident that the partnership with Mirova and its investment has reinforced the project's robustness and credibility and, together with the deal's key players – BPI, Axpo, Jayme da Costa – we are very keen to move forward with the construction and operation of the plant. Hyperion is pleased to be working with Mirova´s highly professional and experienced team." commented Aytea Alvarez-Amandi, General Manager of Hyperion Renewables. "We are very pleased with our new partner and also willing to deepen the relationship with Mirova." added Pedro Rezende, CEO.
>>Read Press Release: Mirova acquires 25 MW solar photovoltaic project in Portugal.