Natixis' Specialized Financial Services (SFS) division* designs products and services for Groupe BPCE networks, and processes financial and stock market flows. Rapid changes in consumer experiences, the emergence of disruptive technologies and a denser competitive landscape have required us to develop innovative client products and services faster.
That's what the BIG Factory, the division's internal incubator and innovation factory, is all about.
Co-designing solutions with clients
SFS saw the digital transformation challenge as the linchpin of its development. This gave rise to the Spark program which was launched two years ago. One of the program's objectives is to use the BIG Factory to design products
that harness the disruptive potential of digital technology. Products and services emanating from the BIG Factory are built to meet clients' needs and offer them a superlative user experience. Clients are used to fluid, rapid and seamless sequences as a result of using digital applications.
According to Gils Berrous, Head of Specialized Financial Services at Natixis, "Our clients demand the same sequence quality no matter whether they are dealing with e-commerce or a financial application."
One of the challenges for this incubator is to introduce a co-design approach on all our products and services by involving the client throughout each stage of the design process. Every business line in SFS has adopted this approach for their development initiatives.
Accelerating creation
The BIG Factory functions according to a defined pace. Each season lasts for five months during which teams at SFS are brought together to work full-time on projects. The work is organized into two time blocks. During the first four-week time block, we meet clients to identify their trouble spots and develop a prototype to devise solutions. The second phase, which centers on
product design, lasts for four months. This involves a website or an app which can better satisfy client expectations while ensuring the minimal number of process functionalities to curb production time. During this stage, we get an MVP (Minimum Viable Product) which is developed over consecutive sequences of two to three weeks. The client participates constantly in the process during this period. We incubated six innovative products during the first season, four of which are being successfully marketed at the moment. Seven new disruptive products have been generated in the incubator during the second BIG Factory season since September 2016.
Freeing up creativity
The BIG Factory espouses a revolutionary approach for employees used to more traditional product design methods. In addition to a faster design time-frame and methods inspired by the main stakeholders in the digital process, the place itself breaks the mould in terms of mainstream office environments. Inspirational messages and bright colors can be found everywhere in these offices which are totally different from the offices the teams usually occupy. From a mini ping-pong table to modular furniture, everything is set up to take employees back to childhood, which is considered to be a very creative time of life.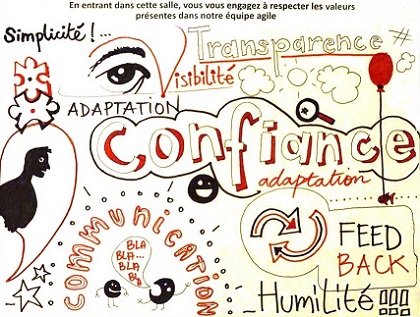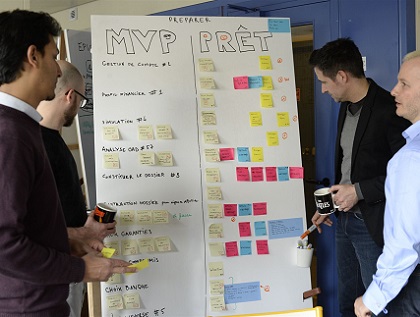 WHAT IS SPARK?

The SPARK program was launched two years ago to speed up the digital transformation of business lines in Natixis' Specialized Financial Services division*.
The program is founded on three pillars:
A client-centric approach: innovation and co-design in the BIG Factory
Priority on operational efficiency: simpler and digitized processes
Spreading the digital culture: employees learn about and are familiar with digital technology
* Specialized Financial Services (SFS) business lines: factoring, sureties and guarantees, consumer finance, leases, film industry financing, employee savings schemes, payments, securities services