Philippe Jeanne, Head of Financial Management & Treasury at Natixis and Member of the Executive Committee, initially trained as a civil engineer then very quickly moved into finance after he gained his qualification from French business school ESSEC. Here he tells us more about his enthusiasm for this fast-changing business sector.
An interview published in the Monde des Grandes écoles et Universités (in french only)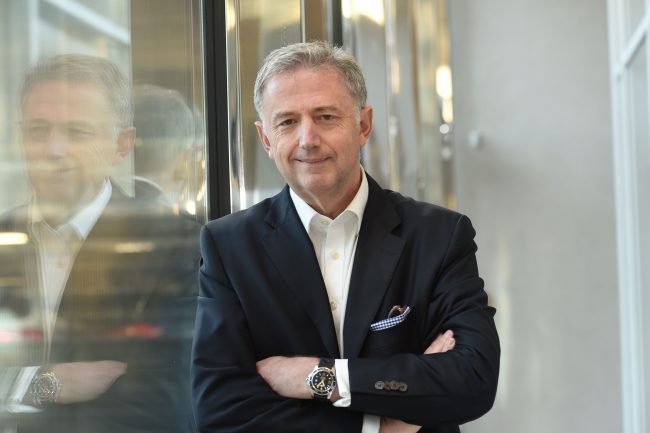 © Fabrice Vallon/Natixis
After training at French engineering school ESTP (Engineering school class of 86), Philippe Jeanne took a course at ESSEC (ESSEC Business school class of 87) with the aim of working in international art financing. Yet he was soon attracted by the banking industry, which was a whole new world for him as he had only some scanty knowledge of management. "The banking sector combines technical aspects with client contact at all times and is also a business where entrepreneurial spirit is encouraged."
Philippe Jeanne is very pleased with his decision to work in finance, which is an innovative, stimulating and international environment. "I always start my day catching up with our international offices, especially in Asia. Managing multi-cultural teams is a very enriching experience and each day is different." 
"I enjoy working in an innovative, stimulating and international environment"
In his job as Head of Financial Management & Treasury, Philippe also particularly enjoys the cross-business dimension, as the department lies at the crossroads of several different business lines across the bank. This means he is constantly in contact with a wide range of different stakeholders and can really work to promote the company's performance. "Our team develops management tools, which are useful and vital in the bank's decision-making. In more concrete terms, this involves compiling, analyzing and summarizing data in order to produce analyses that will help senior management manage the bank and address the challenges raised by today's ever-changing world."
ESSEC: sound training for banking sector work
Philippe Jeanne's fulfilment in his business sector is partly due to his time at ESSEC and he believes that it is one of the only business schools that truly prepares students for the highly complex banking sector. "The school gives students an international dimension that is vital in companies today, while simultaneously managing to strike the perfect balance between technical and business aspects better than its English-speaking counterparts, all the while training agile and flexible students."
"We offer an empowering working environment"
Becoming leaders
Natixis offers much more than just a job – it provides staff with the chance to build a career path to suit every individual. The bank looks for young talented employees who can challenge the existing set-up, with real entrepreneurial skills and strong relationship intelligence. Natixis recently reviewed its set-up entirely to promote agility right across the company. "We have simplified our organizational set-up, cut back the number of management layers, reviewed our leadership model, adjusted our working methods to empower our talents to be independent and take initiatives as part of a clear broader strategy shared by all." The company is looking for entrepreneur-type profiles, who are particularly at ease in an international context. "We need new graduates who want to take action, make progress and feel useful. Natixis really provides an environment where our younger staff are free to innovate and provide input on their vision and ideas."
Are Parisian schools the best?
"Parisian schools are very international and skilled at combining theory and practice, and ESSEC also does really well. It provides very pragmatic training, which helps students understand the real-life application of what they learn."
Related: François Riahi's testimony in the Monde des Grandes écoles et Universités "How Natixis combines agility and usefulness…"