Natixis is partner of the Paris Infraweek 2019 taking place on October 7-11.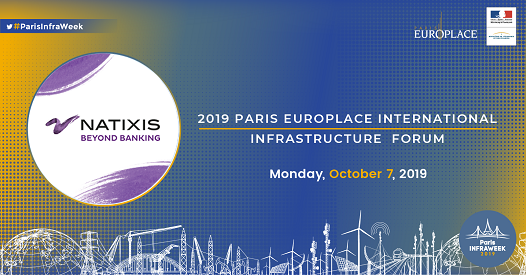 Coordinated by Paris Europlace with the support of the French Ministry for Economy and Finance, the InfraWeek brings together most influential players of the infrastructure investment industry. Quality of infrastructure for an effective and sustainable response to the global fast-growing demand on infrastructure will be at the core of the debate.
Highlights:
François Riahi, CEO of Natixis and Emmanuel Gillet Lagarde, Global Head on Infrastructure Finance, Natixis, are key speakers at the inaugural conference held in Bercy on October 7.
Natixis CIB's 8th Infrastructure Day (Oct.8, 2:00-8:00) notably addresses the investment opportunities led by the transformation of the sector (development of 5G, transition towards a zero-carbon economy, grid parity takes renewables to new frontier, etc.).