#Business
#Sustainable Transition
#Business
#Sustainable Transition
The 6th Climate Finance Day will take place in Paris on October 29th, with the aim of gathering international support for funding the fight against climate change. Natixis is a premium sponsor of this edition, organized by the French Ministry for the Economy and Finance, and the Paris Europlace 'Finance for Tomorrow' initiative.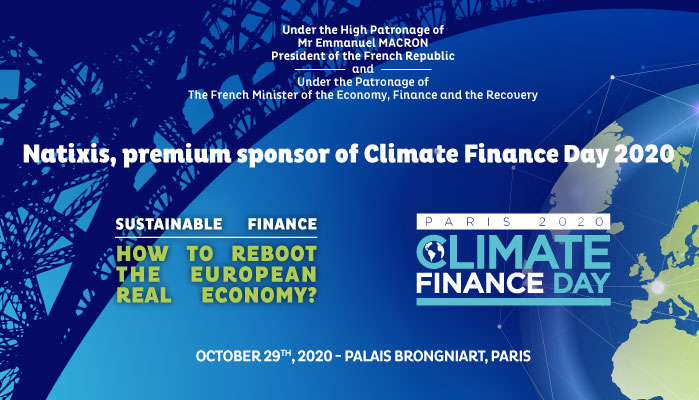 The event involves both fire side chats and round-table discussions as this year's conference will be devoted to the sustainable economic recovery post-Covid-19, with a particular focus on European policies, and a theme of "Sustainable finance: how to reboot the European real economy?"
It will bring together high-level representatives from the financial industry, regulatory authorities and governments, as well as members of civil society.
Nicolas Namias, CEO of Natixis, will take part in a fire side chat on the theme of "Transition strategies and interactions between an Energy major and a financial institution", with Patrick Pouyanné, Chairman of the Board and CEO of Total.
In today's health crisis, the financial industry must strive to support the economic recovery while playing its role in making the European Union's economy more sustainable.
---
Natixis is committed to playing a role in economic recovery and a fair transition towards a sustainable economy
Contributing to economic recovery with impactful social and environmental solutions
Natixis directly supports the economy and combats the effects of Covid-19 on employment via its support for the Caisse d'amortissement de la dette sociale (CADES) and Unédic in their early social bond programs.
Groupe BPCE is committed to sustainable development and has launched a number of solutions for Banques Populaires and the Caisses d'Epargne retail clients, allowing them to opt for responsible pension savings accounts, fund the construction and renovation of buildings with a low environmental footprint or energy efficient accommodation.
Encouraging and supporting our clients' transition
Natixis draws on its widely reputed financing and investment expertise to support its clients' transition towards a low carbon economy as renewable energy accounts for more than 90% of funding in the electricity generation sector*: Natixis has financed 6,1GW* in renewable capacity since the Paris Agreements.
*(data as at 12/31/2019)
Natixis offers new green tools such as sustainability-linked bonds and sustainability-linked loans to fund its clients who pledge to meet specific sustainable development goals and figures for the mid to long term. Natixis arranged the largest transaction ever undertaken in the transport sector when it supported the leading private railway operator in Italy, Nuovo Trasporto Viaggiatori, in developing its sustainable goals.
Preserving biodiversity
Natixis has taken on a series of practical, measurable and time-bound commitments to preserve biodiversity and natural capital across its different business lines and in its directs environmental impacts.
Mirova has secured a partnership with Iceberg Data Lab and I care & consult to develop a methodology system offering investors and asset managers access to a physical indicator of their biodiversity investments.
Championing an environmental and social responsibility (ESR) policy for specific
Natixis tightened its exclusion criteria in 2019 and in 2020 the company took two fresh commitments on the energy and climate transition on the funding of shale oil and gas, as well as coal projects.
Aligning with the Paris Agreements on the climate
Natixis steers its climate strategy to align its performance with the aims of the Paris Agreement, as it drawn on the Green Weighting Factor, an inhouse capital allocation tool to assess the climate and environmental impact of its financing activities.
Recognized commitments
Natixis has been recognized among the 2020 PRI leader Group for the quality of its climate reporting, with Natixis Assurances and Mirova featuring in this group.
Natixis received "The Banker's equity-linked product award 2020" demonstrating its innovation capabilities and expertise on social and green investment solutions.
ALL OUR ARTICLES ON THE GREEN TRANSITION