Fifteen years after joining the World Trade Organization (WTO), China's economy is changing.
Natixis has had an on-the-ground presence in mainland China since 1994 via its Corporate & Investment Banking and asset management businesses. The country is today one of the major drivers of the bank's ongoing expansion in Asia Pacific.
China's complex economic shift
The Chinese government is engineering a transition toward a more diversified economic growth modelwhile allowing market forces to play an increasingly significant role in the allocation of resources.
The years of double-digit annual expansion in the Chinese economy are gone, and growth for the first nine months of 2016 was 6.7%. This remains, however, well above the growth rates of more mature economies such as the EU and the United States, and Natixis continues to see significant development potential in the country.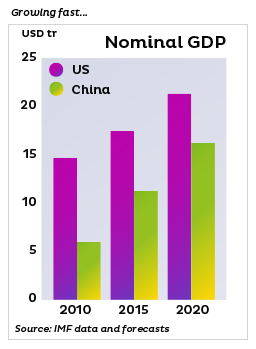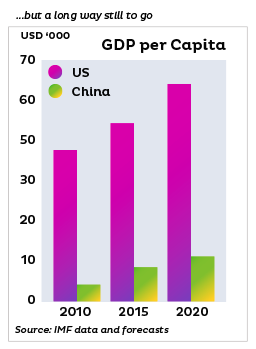 A macro view by Alicia García-Herrero, Chief Economist, Asia-Pacific
Gloomy predictions about China's economic prospects are as old as the country's reform and opening up process itself, which began almost forty years ago. China's economy certainly faces its fair share of problems, most notably an over-indebted corporate sector, overcapacity in many traditional industries and steadily-rising sovereign debt. But we don't see any kind of hard landing ahead. On the contrary, the government has shown itself capable of responding effectively to economic challenges that arise.
Structural reforms may be taking place slowly, but they are moving forward and giving rise to very rapid growth in "new economy" sectors, including in technology and services.
Chinese companies are increasingly displacing foreign rivals in the Chinese market, and going toe-to-toe with them on a global stage."
Natixis designs its own path in China
Natixis' strategy in China combines the bank's global reach and long European heritage with its local knowledge in China and close focus on providing solutions to meet the needs of its clients.
It works with many of China's largest corporations, delivering financing and market solutions to support their international growth, and also serves Chinese institutional investors, providing customized investment opportunities backed by Natixis' global expertise. It equally supports the development of European and international companies wishing to develop their businesses in China.
"The tremendous growth of Chinese investment into Europe is creating new and expanding development prospects for European and Chinese companies. Our goal is to leverage our deep European roots and close relationships with Chinese clients to enable unique and value-accretive cross-border transactions". Alain Gallois, Head of the Asia Pacific Platform
Natixis Beijing Branch, one year on
After opening a branch in Shanghai in 1999, Natixis launched a branch in Beijing in late 2015. It has enhanced the bank's ability to serve its Chinese clients, particularly the many state-owned companies (SOEs) based in the Chinese capital.