#Art And Sport
#Charity
#Culture And Talents
#Art And Sport
#Charity
#Culture And Talents
Les Fortiches, our 14-strong team of company employees, are going to don their running shoes for the eighth time. The Course du Coeur race is organized by Trans-Forme, the French transplant and dialysis association, and aims to raise public awareness about the importance of organ donations. This year's race will take place from March 29 through April 2, and will start in Paris and finish in Bourg-Saint-Maurice – Les Arcs.
Course du Coeur – the spirit of solidarity
Natixis' involvement with the Course du Coeur race began at the end of 2009 and was prompted by employees who wanted the company to become part of this exciting human adventure and sporting achievement.
Les Fortiches will run for 4 days and 4 nights to clock up the 750 kilometers separating Paris from Bourg-Saint-Maurice – Les Arcs. Along the way, they will raise the public's awareness about organ donation. Our team will run through approximately 200 towns and villages.
The Course du Coeur is an outstanding example of solidarity and team spirit. The race will include standard and "specials" stages: roller blades, bike and run, flying relays, canoe, etc.
So for Natixis, this sporting event has become much more than just a simple team race. The cause is now a keynote event on Natixis' calendar. Employees have responded warmly to the initiative, which has paved the way for them to become involved in a humanitarian and socially supportive cause.
Take a look now at the proposed itinerary for the Course du Coeur race: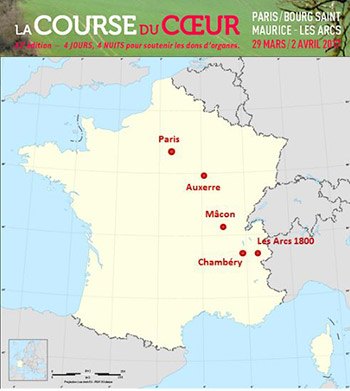 ---
Getting involved and taking action
Organized by Trans-Forme, the Course du Coeur race is a sporting and socially supportive event that aims to raise public awareness about organ transplants and, consequently, the importance of organ donations. The race is coordinated under the patronage of Professor Christian Cabrol, a pioneer in transplant surgery.
By reaching out to the public throughout the entire race and with the help of media coverage on the event, the Course du Coeur race will ensure the maximum distribution of organ donor cards.
---
Les Fortiches – Natixis' international team
Les Fortiches [The Ace Team] got their nickname from Professor Cabrol in 2010 when Natixis first entered the competition. Fourteen employees make up the team which hails from a host of different business lines in the company and from various professional backgrounds. The team is a truly international, regional and Île-de-France mix: two employees come from New York and another from Prague. Another four come from Lyons, Nantes, Valence and Toulouse. Les Fortiches create a feeling of team spirit in Natixis employees everywhere thanks to this socially-minded cause.
Their motto is "Run your heart out and then some", which shows how serious they are about this initiative.
The public can keep track of their adventure by going to:
Community-minded events involving the Course du Coeur race
The race is not just about running. Natixis is organizing other community-minded actions internally to raise employee awareness about organ donation.
Two such initiatives form part of our annual events:
The "Drawing with all your heart" competition: The Children's section of Natixis' Workers' Council is organizing a competition for employees' children. The original drawings will initially be shown throughout the company's sites and will later be forwarded to Trans-Forme to be given to hospital transplant units to encourage and give hope to patients waiting for a transplant.
Clicking game: Natixis is encouraging employees to play the Clicking game being organized by Trans-forme. The game gives employees of companies taking part in the race the chance to earn bonus points for their runners.
---
Course du Coeur – a few key figures
31st Course du Cœur race
8th race for Natixis
21 teams, including 1 team of runners who have had transplants (heart, liver and kidney)
14 Natixis runners
4 days, 4 nights
Stages lasting from 10km to 60 km
Race length of 750 km from Paris to Bourg-Saint-Maurice – Les Arcs
Over 200 runners
Over 200 towns crossed
Over 140 volunteers