The Commonwealth of Australia, home to nearly 25 million people, is now the world's 12th largest economy according to the IMF's ranking. The traditional forces of its economy are its abundant and varied primary resources (iron, coal, gas, oil, uranium, gold, copper, rare earths) and a productive and export-oriented agriculture.
Australia, a member of the G20, chaired it in 2014, during which it focused on the issue of infrastructure development, securing the creation of a Global Infrastructure Hub, a new Sydney-based institution. Despite the effect of the 2008 financial crisis on public finances, the country is one of the last whose debt is rated AAA by all the agencies.
According to Alicia Garcia-Herrero, Chief Economist for Asia Pacific: "The Australian economy is about to find a way out of a swamp, after the collapse of the mining boom in 2012. Business investments began to bottom out after declining for more than four years, where tourism has been one of the bright spot.
The housing market has also been resilient on the back of a low vacancy rate, to accommodate the growing population. As the labor market tightens, wage growth finally began to turn around, after decelerating for five years. Because inflation pressure remains weak, the Reserve Bank of Australia is expected to delay the rate hike until the end of 2018, as a weaker Aussie dollar would further support the rebalancing of the economy." 

Natixis is present through CIB activities as a leading global player in structured finance. As for Asset Management, Australia is an important part of Natixis Investment Managers' Asian expansion strategy and the recent acquisition of Investors Mutual Limited (IML) will help increase the group's exposure to the local retail market and the Australian superannuation retirement system. 
CIB businesses in full boom
Natixis offers its clients in Australia a full range of expertise in advisory, arranging, underwriting and financial engineering, delivering financing solutions through the debt, bond and securitization markets.
Natixis' activities in Australia are structured around three main areas:
Infrastructure finance,
Energy & Natural Resources Finance,
and Acquisition and Strategic Finance.
Natixis provides innovative financial solutions drawing on over 20 years of experience. 
On the capital markets side, Natixis provides foreign exchange and interest rate hedging solutions, arranging deposit services, debt investment products including structured products such as residential mortgage-backed securities (RMBS) and collateralized loan obligations (CLO). It also distributes equity derivatives products as well as vanilla bonds, including bonds issued by Natixis' parent, Groupe BPCE.
Meeting clients' expectations

Natixis provided a syndicated senior loan facility of a A$150m to finance the construction and operation of AirTrunk's first two greenfield hyperscale data centre campuses in Australia. This transaction marked the largest of the kind to date in the Southern hemisphere. Founded in 2014 by industry veterans, AirTrunk is a data centre company providing data storage solutions for cloud, content and large enterprise customers in Asia Pacific. 

Natixis finalised on 13 September the pricing of La Trobe Financial Capital Markets Trust 2017-2, an AUD residential mortgage-backed securitisation (RMBS) for La Trobe Financial, one of Australia's leading credit specialists. The transaction saw Natixis act as joint lead manager and the only non-Australian bank on the underwriting panel.
This transaction follows the establishment by the bank earlier this year of a mortgage warehouse facility for La Trobe Financial, and will help to refinance a significant portion of the loans currently funded in the Natixis warehouse. Oversubscribed at all levels, it marked the largest RMBS transaction to date for La Trobe Financial with twenty different accounts participating across the capital stack, including multiple first-time investors from Europe and Australia. La Trobe Financial lauded the transaction as a success and a milestone in the further growth and internationalization of its RMBS program.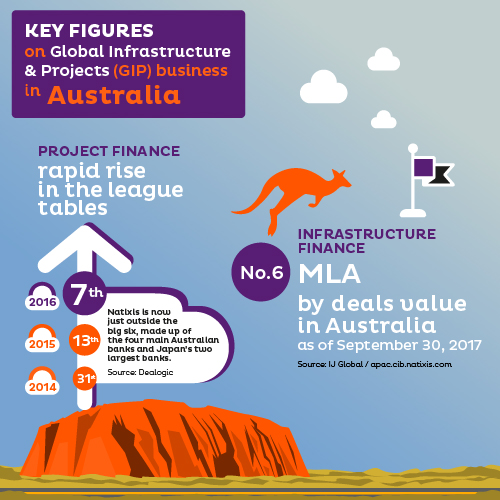 Expansion of Asset Management presence in APAC: an important step
Natixis Investment Managers has offered its investment capabilities in Australia since 1999, and in 2015 strengthened its commitment to that market by opening an office in Sydney in order to give local institutions access to its global affiliate network.
For global asset managers, Australia is a fast-growing market (8.0% CAGR 2013-2016) which is currently the 2nd largest retail and institutional market in APAC, and the 3rd largest retirement market globally.
In October 2017, Natixis announced the acquisition of a majority stake (51.9%) in Investors Mutual Limited (IML), which became a new affiliate of Natixis Investment Managers. The deal, which was its first major acquisition in Australia, increased Natixis Investment Managers' exposure to the local retail market and the Australian superannuation industry and reinforced its distribution platform in Australia. It also marked an important step in Natixis Investment Managers' ambition to expand its presence in Australia and APAC as a whole.


IML is a well-respected, successful Australian equities value manager created in 1998 with AuM of AU$9.1bn (€6.1bn). It has a long-term, conservative, quality and value based investment style.
"We have previously stated that it is our intention to pursue new growth in the Asia Pacific market, and IML marked the first acquisition as part of those plans. IML has a strong track record as one of Australia's most consistently performing fund managers, and its commitment to investors and reputation in the market will make a significant contribution to the Natixis Investment Managers multi-affiliate model", said Jean Raby, member of Natixis Senior Management  Committee and CEO of Natixis Investment Managers.
Natixis Investment Managers serves financial professionals with more insightful ways to construct portfolios.
Powered by the expertise of more than 25 specialized investment managers globally, Natixis Investment Managers applies Active ThinkingSM to deliver proactive solutions that help clients pursue better outcomes in all markets. The multi-affiliate structure is built on a belief in the power of independent thinking, and purposefully maintains the autonomy, investment philosophy and culture of the firms.
"The Australian wealth management industry in particular is highly sophisticated, and IML's views on portfolio construction and risk management align with our approach. Moreover, IML shares our core values of consistency, transparency and always putting clients first", said Fabrice Chemouny, Head of APAC at Natixis Investment Managers.