Natixis has secured the "Credit Portfolio Manager of the Year" award from Risk Magazine, demonstrating recognition for our highly innovative originate-to-distribute approach to the Credit Portfolio Manager business. Natixis was singled out for its integrated approach towards its Distribution & Portfolio Management (DPM) team, which is central to our strategy, in addition to our ability to respond dynamically to market expectations.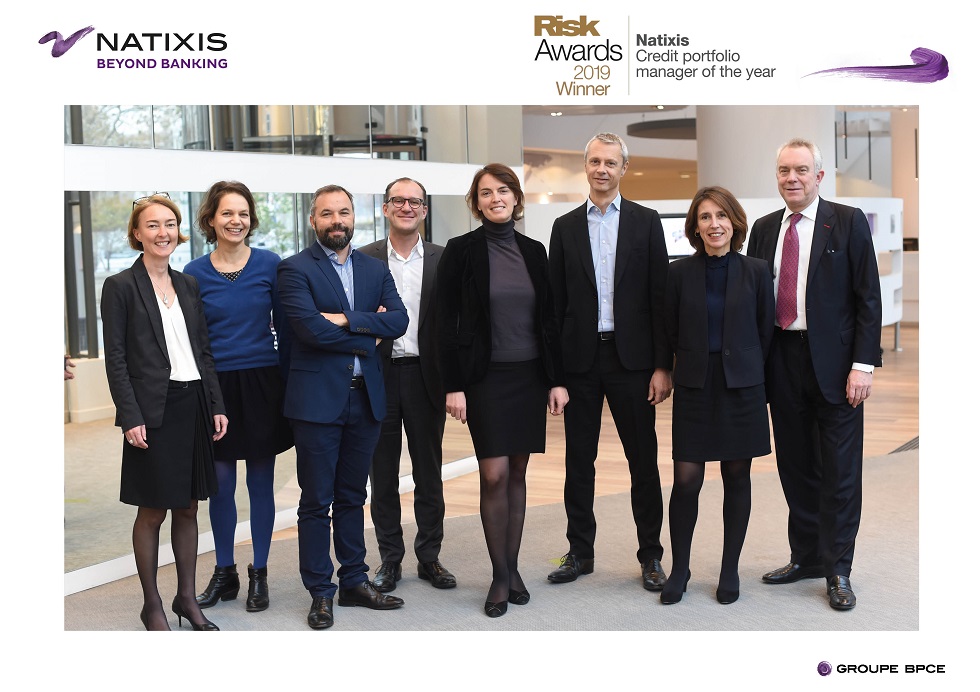 Carole Macaire-Freynet, Guiraude Lame, Alexandre Failler, Jean-Marc Mangiavellano, Anne Christine Champion, François Favret, Dominique Bernier, John-Charles Van Essche
Risk Magazine highlighted our ability to provide optimal financing solutions to borrowers whilst enabling investors to build diversified portfolios, in the context of increased regulatory and cost constraints.
"Banks are no longer a good home for long-dated loans. What we are doing more and more is going out and finding investors who have the appetite for these assets. Effectively, we are playing the role of a match-maker providing strong expertise and alignment of interest" says Anne-Christine Champion, Global Head of Distribution and Portfolio Management, Natixis. Solutions are driven by our ability to bring innovative financings to capital seekers and attractive investment opportunities to capital providers as demonstrated for instance with our co-lending platform, the newly signed partnership with Ostrum Asset Management or our synthetic securitization offering.
"The ability to manage risk is a cornerstone of the originate-to-distribute model, because this is what investors are looking for when coming to us, to build up diversified portfolios. So, when we moved to this organisation in 2016, we ensured the cost of risk would remain a key performance indicator – obviously for DPM, but also for origination and coverage" she adds.
More information in the related article 
Watch the interview with Anne-Christine Champion and find out more on Originate to distribute, a successful strategy for Natixis :