Natixis will take part in the 10th consecutive Course du Cœur race from March 27 to March 31, 2019. In the program is a relay race that will be run during the day and night to cover the 750 km separating Paris and Les Arcs – Bourg Saint Maurice.
Course du Cœur: run for your life over 4 days and 4 nights
The Course du Coeur race is organized by Trans-Forme, the French transplant and dialysis association, to raise public awareness about organ transplants and donations. The race is both a sporting and solidarity challenge that takes place over 4 days and 4 nights.
The 2019 event is being held from March 27 to March 31, starting in Paris and finishing in Les Arcs –Bourg Saint Maurice. The running teams, one of which includes people who have undergone transplants, will race in relays over the 750 km distance.
14 Beyonders on the starting line plus a top-notch sponsor!
Natixis' involvement in the 2019 race looks set to be a memorable one with a team of 14 Beyonders, half of whom are international runners. The team's sponsor is Brice Dulin, full-back for the Racing 92 rugby.
Why Beyonders? Because our runners personify our values: going the extra mile, tenacity, commitment and expertise. It was precisely these values that made Brice Dulin, who is a French top-level international rugby player, want to sponsor the Natixis team for the 2019 Course du Cœur event.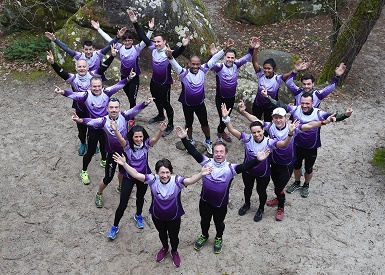 You can keep track of the Beyonders' sporting and solidarity adventure by checking out the Natixis Facebook for Course du Cœur, the Course du Cœur blog and Instagram.
Take a look at what Brice Dulin has to say in this interview.