On December 3, at the awards ceremony for Best Shareholder Relations organized by Le Revenu magazine, Natixis Shareholder Relations won the Gold Award for Services to SBF 120 Shareholders (excluding CAC 40).
This Gold Trophy for the best shareholder services of the SBF 120 awarded to Natixis rewards all the actions of the company's Shareholder Relations department with regard to the individual shareholder, for a continuous relationship adapted to all types of shareholders.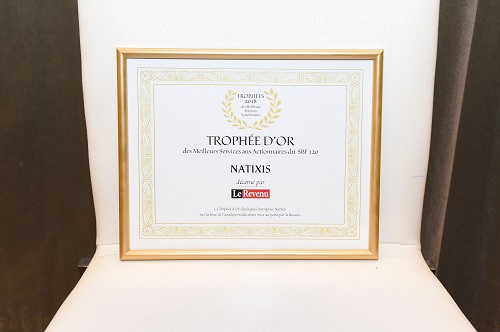 This distinction also recognizes the proximity and dynamism of the actions in its daily relationship with Natixis' Individual Shareholders.
Last year, the team received the Silver Trophy and, in 2016, the Bronze Trophy.
As a reminder, Natixis was rewarded with the Agefi's Shareholder democracy prize in October 2018.
This award pays tribute to the efforts made by the Shareholder Relations team to serve individual shareholders.