Natixis was named Most innovative investment bank for climate change and sustainability* and the company took a leading role at the recent MIPIM real estate forum, supporting industry professionals in their energy transition.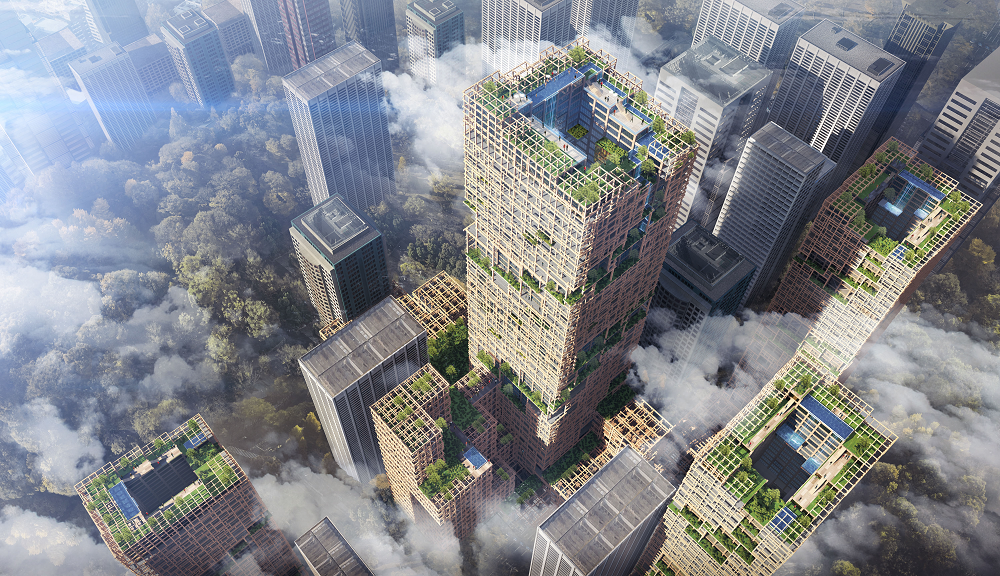 There is a broad-based consensus that if we are to save the planet, we need to revolutionize the way we live – and soon. Each individual action is important in humanity's efforts to clean our planet's air and keep the rise in global temperatures below the two-degree threshold set by the Intergovernmental Panel on Climate Change. This applies across the board, whether in transport, power, or our eating and spending behavior, while of course the building and real estate sector is on the front line, accounting for 40% of greenhouse gas emissions worldwide. During the Marché International des Professionnels de l'Immobilier (MIPIM) real estate business convention in Cannes, former Secretary-General of the United Nations and guest of honor at the 2019 edition of the event Ban Ki-moon noted: "In the fight against global warming, it is up to you to take the lead in reducing greenhouse gas emissions in your properties and industry… Ensure that all commercial and residential properties have sustainability certification. Integrate climate-risk considerations into your investment decisions! As long as we keep moving forward in a responsible and sustainable manner while continuing to build dynamic and innovative partnerships, there is simply no limit as to what we can achieve."
It's not about stopping building, but building better
The focus needs to be on building better rather than on halting building, and it will also be vital to improve renovations on existing buildings to bridge the divide between our cities and the natural environment. Meanwhile, just as the MIPIM industry event was taking place, the March of the Century was also held on March 16 with the same purpose in mind, and turnout in France came to more than 350,000 people. Ecology activist Cyril Dion, who made the documentary Tomorrow, notes "we need in-depth change in our society. Eight people in ten in France want the companies that pollute the most to be much more heavily taxed. Today's involvement from young people is unprecedented and this moment must mark a clear turning point, with a real difference between before and after."
Companies in the real estate industry have admittedly been working on this issue for a long time already, and as a result of various changes in heating regulation since 1974, buildings that comply with current regulation use nine times less energy and emit three times less greenhouse gas than in the past. However, it is taking much longer to improve existing buildings, as only 1% of buildings are replaced each year, mainly on the back of financial incentives for individual citizens. There are still vast numbers of buildings with poor energy efficiency and it is vital to pick up the pace on this aspect. Louis Douady, Head of ESR at Natixis, states "we are convinced that financial institutions have a real responsibility to play their part in the transition to a low-carbon economy, and Natixis intends to make a strong, practical and innovative contribution. So, with this in mind, we have made ESR and all its various components a key part of our corporate strategy".
Pilot structure to support ecological transition
Natixis also clearly marked its pledge to support ecological transition by setting up the first Green & Sustainable Hub, and according to Orith Azoulay, Global Head of Green & Sustainable Finance at Natixis' Corporate & Investment Banking arm: "this pilot set-up embodies our determination to promote innovation and support our clients in their ecological and social transition." The hub's initiatives helped Natixis carry off The Banker's award as the Most innovative investment bank for climate change and sustainability in 2018*. Orith Azoulay continues: "our hub testifies to our commitment to fighting climate change and supporting energy transition, while also highlighting Natixis' determination to become a key company in the green and responsible finance space. Our teams strive to promote our green and responsible solutions."
There are a number of challenges that range from major projects such as the new Jewel terminal at the Changi airport in Singapore, which invites visitors to visit a garden spanning 14,000 m2 over ten levels, including five underground, and a waterfall of 40 square meters, to renovations, which are equally important and are encouraged by changes in regulation. These regulatory developments overturn existing business models and force companies to take sustainable development on board in their costs and in their risk management i.e. hedging, resource management, stranded assets, and energy costs.
A key concern for industry professionals
At this year's MIPIM forum, which welcomes a wide range of industry professionals, these issues were the focus for several discussions. "With €500bn in green debt, the green market remains a niche in the broader bond segment, but it is still substantial and enjoys phases of strong growth" note Serge Demirdjian and Thomas Garnier (read their interview). At the MIPIM event, there was a strong awareness of the sector's overall environmental footprint and the challenges this raises for the climate. More and more companies are taking on board these issues on a daily basis, and the regulatory context, which changes every five years also has an impact on smaller companies. Some are miles ahead, such as Ivanhoé Cambridge. "It wasn't that difficult to transform a green loan for them as the demand came from them. They want to be pioneers on this sector" declare the experts.
Key figures
Aim of reducing greenhouse gas emissions by the building sector by 44% from 90Mt CO2eq (millions of tons of CO2 equivalent) in 1990 to 50MteqCO2 in 2030.
Goal of cutting building sector energy use by 24% in 2030 from 68Mtoe (millions of tons of oil equivalent) in 2012.
"Thousand trees" project embodies a green future for Paris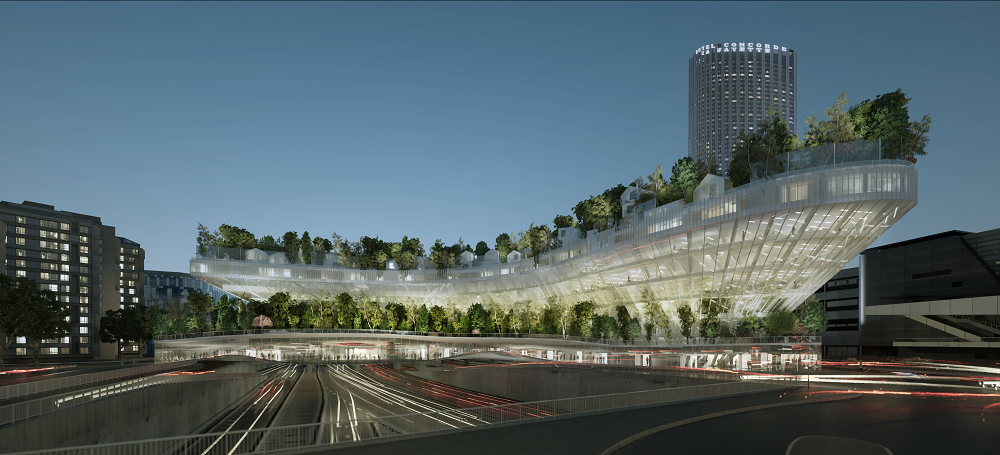 Winner of the 2019 MIPIM Award for the Best Futura Project, the "Thousand trees" project reinvents the relationship between town and nature, at porte Maillot in Paris.
Imagine a small town with offices, housing, a hotel with 244 rooms, a panoramic restaurant, two nurseries, a playground for children, a bus station, all set within a forest of a thousand trees. This hare-brained and visionary project from developer OGIC in partnership with architects Sou Fuilimo, Manal Rachdi and Compagnie de Phalsbourg has deservedly just won the Best Futura Project prize at the 2019 MIPIM Awards. The project had already been singled out from the 420 applications in the Reinventing Paris competition. At a time when we quickly need to learn lessons from past experience, this vertical city with a thousand trees of different essences is both a technical, structural and environmental challenge, and a very bold and positive sign from Paris to the rest of the world". It will span the Paris ringroad at porte Maillot and is designed to be a bridge between the city and its suburbs, as well as a gateway between nature and architecture. "The aim is to embody a new form of city life that is both responsible and human" explains Emmanuel Launiau, Chairman of OGIC's board. The structure's extraordinary inverted pyramid structure will require little ground space, while providing vast public spaces and a thousand trees, creating an ecosystem for its occupants and a green horizon for the city's residents. The building permit is currently being finalized, so this project will bring a breath of fresh air in 2022, just a few years away.
*Source: The Banker Investment Banking Awards 2018