Natixis is taking part in European Sustainable Development Week (ESDW) for the thirteenth consecutive year. The event takes place from May 30 to June 5, 2018, with Natixis organizing a series of events and activities for its employees. The aim of this annual event is to promote Agenda 2030 and its 17 Sustainable Development Goals (SDGs) on a European-wide scale. ESDW encourages stakeholders everywhere, including governments, companies and society at large, to make an active contribution to achieve Sustainable Development Goals.

Understanding Sustainable Development Goals in 2 minutes 
These 17 Goals propose a universal action plan to address the global challenges associated with climate change; for example, the preservation of natural resources and to improve the lives of people everywhere.
European Sustainable Development Week is a week to educate and mobilize our teams
A host of educational and mobilization initiatives have been organized for our employees during European Sustainable Development Week:
A conference with Pascal Canfin, CEO of the NGO World Wide Fund for Nature (WWF) France on the topic of ecological footprint and green growth financing. He is a former European Member of Parliament and former Minister for Development, 
Promoting the circular economy with fun workshops and educational stands on the new system of collecting and sorting waste,
Awareness initiatives on non-motorized transport with bike-repair workshops carried out by ESAT1 Les Petits Vélos de Maurice, which employs disabled people.
Sustainable Development commitments and the future
We are combining value creation and responsibility to ensure lasting development. Environmental and Social Responsibility, also referred to as "ESR", is therefore an integral part of our business strategy. It is focused on 3 levers:
Developing sustainable business,
Risk management by factoring in ESG2 criteria in our financing and investments,
Controlling our direct impact on the environment and mobilizing our employees with respect to ESR.
Take a look at the main levers of our ESR strategy

We are fully involved in the international mobilization to support Agenda 2030. Our ESR commitments are therefore aligned with the Agenda's Sustainable Development Goals. At the moment, we are actively contributing towards 8 of the 17 Goals fixed by the United Nations General Assembly in September 2015.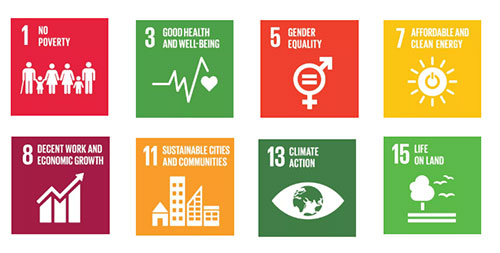 [1] ESAT: Établissement et service d'aide par le travail (an entity and service to assist people through work)
[2] ESG: Environmental, Social and Governance