The employee savings system is 50 years old and the scheme is constantly adapting to meet today's new trends and challenges: digital, changes in pension systems, and the emergence of responsible investment. Natixis has been present on this market since 1969 and is constantly innovating, factoring in these various challenges to adapt its product range and encourage staff to be proactive in managing their savings.
The emergence of employee savings
On August 17, 1967, French President General de Gaulle[1] signed a decree to implement profit-sharing for employees in companies with 100 staff or more and thereby laid the foundations for employee savings in France. "It is vital that staff share in the profits, capital and responsibilities of their companies, and this must become one of the basic features of the French economy. ". The emergence of employee savings was not merely aimed at sharing profits, but it also involved playing a role in the employing company's management and responsibilities.
Employee savings are funds that staff can build up within their company with their employer's help, via specifically designed investment vehicles and mechanisms: incentive schemes, profit-sharing, employer matching contributions, company savings plans, and the French PERCO retirement savings scheme.
The social and economic benefits of the system are clear, as this crucial savings platform devoted to employees helps support them in their major life plans and prepare for retirement. Employee savings also make a considerable contribution to financing companies and the economy as a whole via employee shareholding and are an important aspect of social cohesion in businesses.
In the space of 50 years, employee savings have grown considerably and now boast record assets of €123bn[2], as compared with €55bn at the start of this century, with 10.2 million staff holding employee savings investments.
In 2015, as many as 8.6 million staff had access to at least one employee savings scheme, including 7 million who also benefited from an additional income source such as profit-sharing, incentive schemes, matching employer contributions on company savings plans or on PERCO retirement savings schemes[3]. Additional income provided by this range of savings schemes comes to on average €2,422 for each employee benefiting from the plans[3].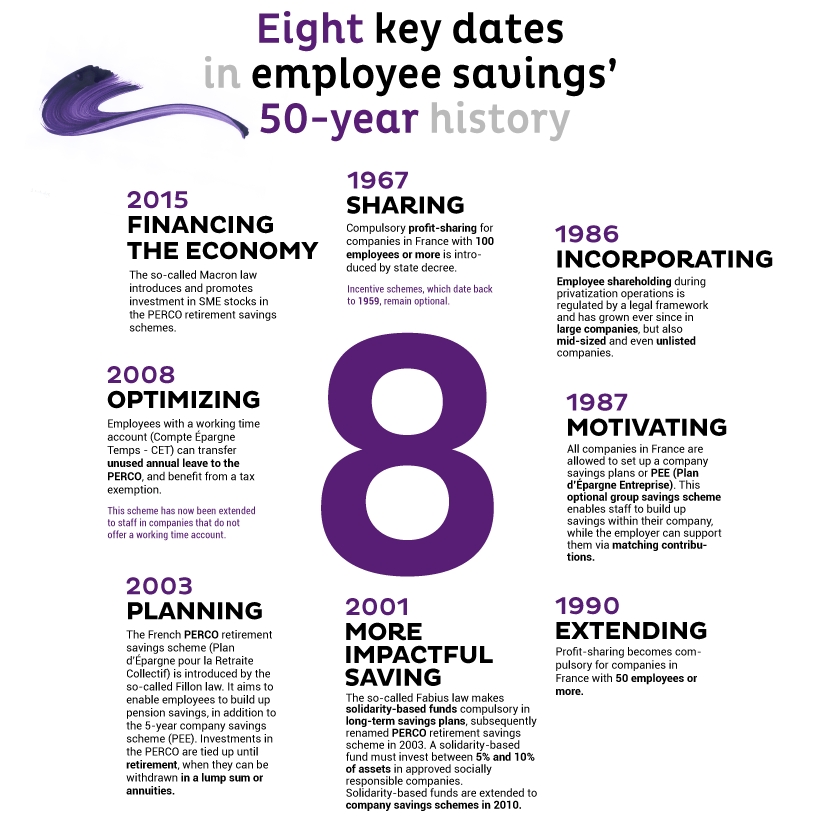 Natixis boasts a robust integrated employee savings model and solid expertise
Natixis has developed a strong employee savings system and constantly provides clients with the highest standards of service quality.
Natixis' employee savings subsidiary Natixis Interépargne has been working closely alongside companies and staff and supporting them since 1969. The bank is No.1 on account management with close to 3 million accounts and 27.9% market share as a result of this long-standing trusted relationship with clients[2].
Natixis Interépargne provides its clients with a comprehensive range of solutions, on both asset management, leveraging the expertise of Natixis Asset Management and products from Natixis Global Asset Management's asset manager affiliates, and account management. The various solutions on offer cover all investment timeframes and all investor profiles and aims.
"Employee Savings: ground-breaking Natixis ever at the cutting edge of innovation", video of Stéphane Caminati, CEO of Natixis Interépargne.
New trends are changing the employee savings business
Strong digital momentum
Natixis Interépargne develops digital and educational tools and services to help make employee savings more comprehensible for staff: webinars, chats, Mon Épargne Salariale, a mobile-phone and tablet app launched in 2011, interactive virtual agent Thomas, and the entirely digital Premium Digital employee savings management solution.
These new services and platforms are designed to meet savers' high expectations, as current behavior and usage are fast-changing.
Responsible and solidarity-based savings gain ground
Social and environmental criteria are playing an increasingly important role in investment choices and this trend is transforming the market. Investors want their savings to have a greater impact and they seek to adopt a different approach to saving.
With this in mind, Natixis proactively includes environmental, social and governance criteria (ESG) in the employee savings solutions it provides.
Natixis Interépargne, which leads the market on inflows for solidarity-based employee savings in France[4], and Mirova[5], the leading solidarity-based fund manager in France[4], launched Impact ES in 2013, the first employee savings SICAV fund that is entirely devoted to Socially Responsible Investment (SRI). This fund enables staff to invest in the SRI sector, particularly employees from small and very small companies.
"Towards more impactful savings", video of Stéphane Caminati, CEO of Natixis Interépargne.
Retirement plans are a key concern for employees
With the structural imbalance in the pay-as-you-go pension system in France and today's longer life expectancy, pensions are a key concern among the French population, and 71% of them think that their pension will be insufficient. Despite being aware of this situation, 46% of them have not invested in investment products to increase their pension[6]. Against this backdrop, company top-up pension schemes have become vital.
The French PERCO retirement savings plan was set up more recently in 2003, and aims to address the challenges raised by pension financing. It has enjoyed robust and steady growth, soaring 14% in 2016, with AuM standing at €14bn across 2.2 million savers[2].
Employee savings, and in particular the PERCO, help staff build up additional income over the years, which is available at pension age as a lump sum or an annuity.
To address these various changes and challenges, Natixis has developed an innovative digital pension simulator, AMPLUS. In less than two minutes, employees can make a precise estimate of their future pension income, assess the need for additional revenues and design a personalized program for company savings efforts to reach their aims.
"Why and how to save for retirement?" video of Stéphane Caminati, CEO of Natixis Interépargne.
Find out all you ever wanted to know about employee savings in just a few minutes with interactive virtual agent Thomas (in French only).
KEY FIGURES
Employee savings in figures:
Close to €123billion in assets under management* (employee shareholding funds and diversified funds, primarily invested in equities)
More than 10 million accounts* => Employee savings are hitting records
€24billion in AuM in SRI funds, up 7% in the space of a year*.
€14billion in assets managed in PERCO retirement savings schemes*.
300,500 companies have set up an employee savings scheme: the number of companies with schemes has almost doubled in ten years. Close to 9 million employees have access to an employee savings scheme according to Labor ministry figures** .
* Source: 2016 survey by French asset management association (Association française de gestion financière – AFG), figures at December 31, 2016
** Source: French Labor ministry statistics department (DARES), figures published in 2016
[1] Press conference by General de Gaulle on November 27, 1967
[2] Source: French asset management association (Association française de gestion financière – AFG), figures at December 31, 2016
[3] Source: French Labor ministry statistics department (DARES) – Figures published in August 2017
[4] Source: 2016 Finansol Social finance survey
[5] Mirova, the responsible investment division of Natixis Asset Management, develops an engaged approach aimed at combining value creation and sustainable development
[6] 2017 IFOP survey