Chatbots* are part of our everyday lives – they act as conversational agents to provide answers and services for users across a wide range of media.
What is a chatbot?
Chatbots are available across different types of channels, i.e. instant messaging, websites, voice and telephone assistants, and mobile apps.  
A chatbot is a program that uses natural language to communicate with users, which requires it to analyze and process requests and intent in order to provide the appropriate personalized answers. However, the illusion of an intelligent robot is far from reality, and the way a chatbot operates is very different. They work via a conversational tree that is programmed to include the various potential answers and services: this is regularly updated as the bot is 'trained' to add additional features and constantly provide the best possible user experience.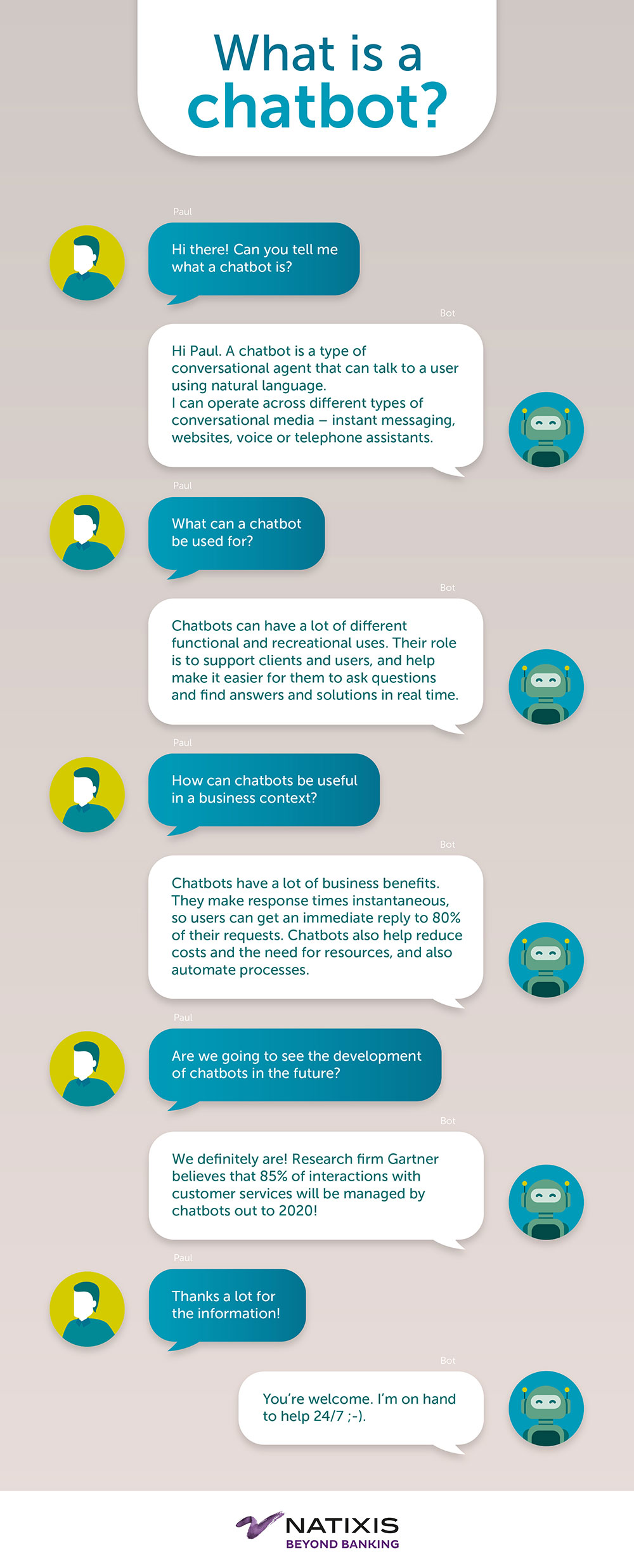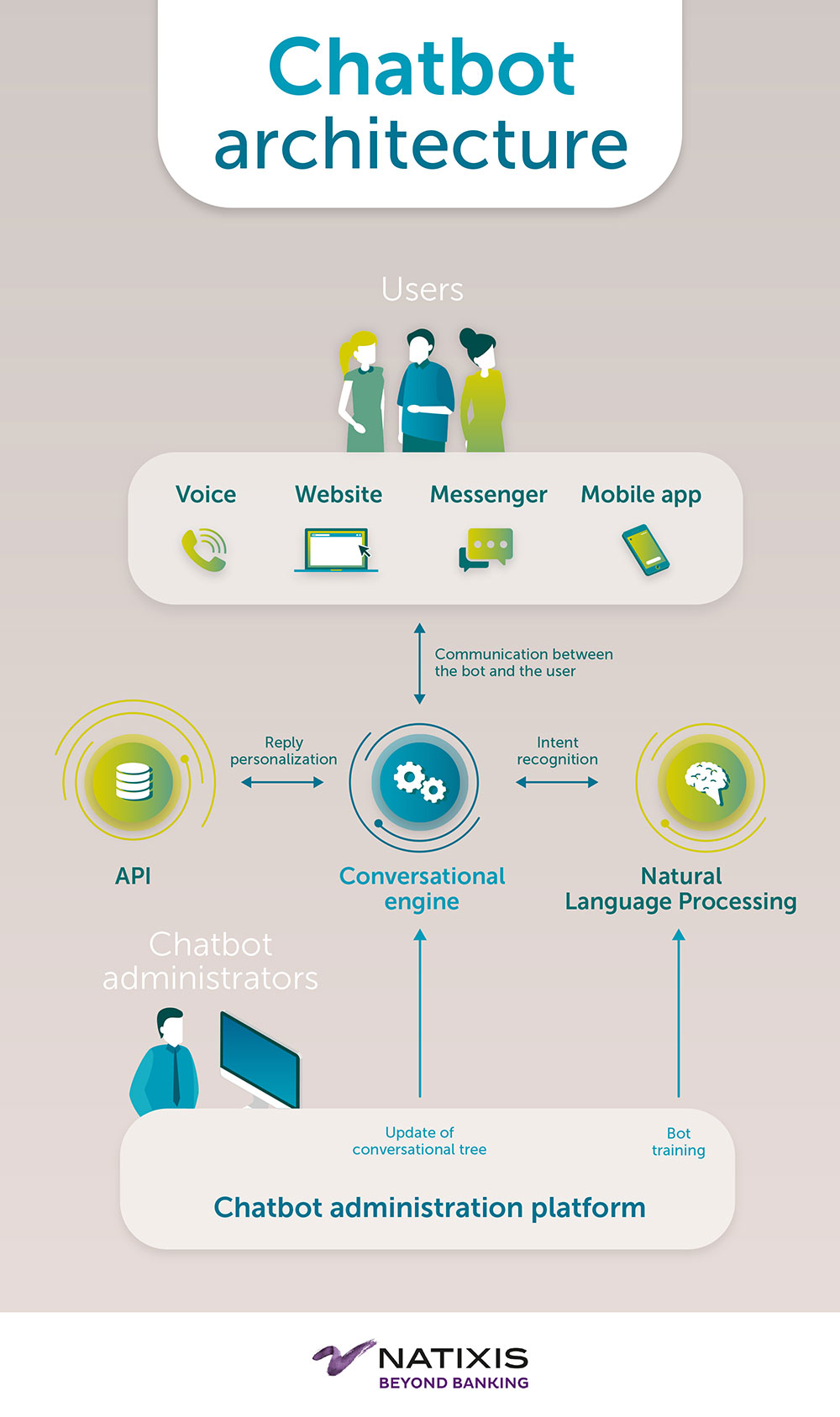 From Türing to today, development was slow 
Most readers will not be aware that chatbots are far from new. The famous Türing test already raised the possibility of a machine that can reply in human language as early as 1936, then in 1954, Joseph Weizenbaum developed the Eliza computer program, which could hold a 'conversation' with a psychotherapist. This was the first program of its kind and made its mark on history, but use of this program quickly became addictive and disturbing for users, who came to see the computer's behavior as human, in a phenomenon that was branded the 'Eliza effect'. The program's creator eventually decided to put a stop to his experiments. However, Eliza simply replied to its user, imitating a therapist's attention and listening ear, unlike current conversational agents that are designed to provide useful answers.
It is important to remember that chatbots have developed very slowly as a computer's intelligence depends heavily on its processing and storage capabilities, so we had to wait until 2016 for chatbots to be on the cards again, driven in particular by GAFAM (Google, Apple, Facebook, Amazon, Microsoft), which are artificial intelligence market heavyweights.
There are currently more than 300,000 chatbots on Messenger, with new ones being developed every day. According to experts, chatbots are set to become the main interaction tool ahead of apps and websites. 
From magical illusion to bot training
However, technology is still not mature and relies on a natural language processing engine, which is based on statistical rules. The chatbot understands simple questions in carefully defined contexts and this artificial intelligence enables it to understand the most frequent questions. But a chatbot cannot improvise, so it requires very lengthy and precise programming to be fully 'trained', after which it must continue to be regularly corrected and enhanced. 
A new job has actually even emerged to address this task – chatbot trainer. This involves helping the chatbot learn the art of human conversation to optimize its response capabilities. The trainer adds to the NLP – Natural Language Processing – engine with information to enhance its experience and make its answers more relevant. 
Case study: introducing NATBOT, Natixis' in-house chatbot development platform
Natixis has set up a platform to develop and use fully functional chatbots, allowing users to create chatbots on various media – web, telephones, voice assistants, Messenger, etc. – without any specialist coding knowledge.
This platform meets a very stringent set of requirements in technical, functional and security terms, and is based on two fundamental principles: modularity and accessibility. Modularity means that the platform is technically independent from any third-party solution, while accessibility means a highly advanced interface for the Natbot platform, enabling business lines to develop a chatbot from scratch with no prior technical knowledge and without needing to write any code. The user interface is made up of icons that users can connect to create conversational trees, and the system also has an analytics set to assess the chatbot's effectiveness. The Natbot teams are on hand to support and advise the business lines on both the technical and relationship aspects from developing the interface to using the platform and training the bot.
BPCE Lease developed callbot NEOCALL using Natbot
BPCE Lease is a Groupe BPCE subsidiary that offers business and corporate clients lease financing for vehicles and equipment.
The company wanted to ensure greater availability for its clients and provide them with faster responses over a longer daily timeframe, so it opted for a chatbot solution to manage the most frequent client questions and answers. The chatbot addresses these questions by phone, hence its name callbot.
Neocall was developed on the Natbot platform and can tackle around thirty different topics to provide instant answers for users. This helps client relationship teams save time that they can then devote to managing more complex questions.
Céline Flavigny, Head of CBM Client Services, and Aurélien Pieteraerents, Head of Efficiency and Client Satisfaction at BPCE Lease, note: "The Neocall callbot project is gradually being rolled out, but we want our users' contact with the callbot to be a positive client experience, which is why we are conducting so many tests. Understanding human speech is a real challenge for computer systems, but Neocall is improving every day and we hope that this experiment will have a very positive outcome for our clients."
The technology of the future
So is all this just hype or are we witnessing a real sea change? Customers have already answered this question as they easily use chatbots as a key contact point in their dealings with their brands across a broad range of aspects i.e. to buy products, manage their accounts or get in touch with customer service. This is particularly useful for companies that can swiftly roll out projects across all their business lines, i.e. HR, Marketing, Customer Service, IT department, Communications.
The technology still has scope for progress, but it is improving very swiftly via the leaps and bounds being made in artificial intelligence, which has really taken off over the past two years.
One thing is sure – chatbots will not just be restricted to that little window on the bottom right-hand corner of users' browsers: it may soon be a real alternative to the keyboard and mouse on voice assistants. Companies' initiatives are set to increasingly interconnect to move towards a more unified human-machine conversation experience.
* Chatbot is a combination of chat and bot or robot  
---
Going further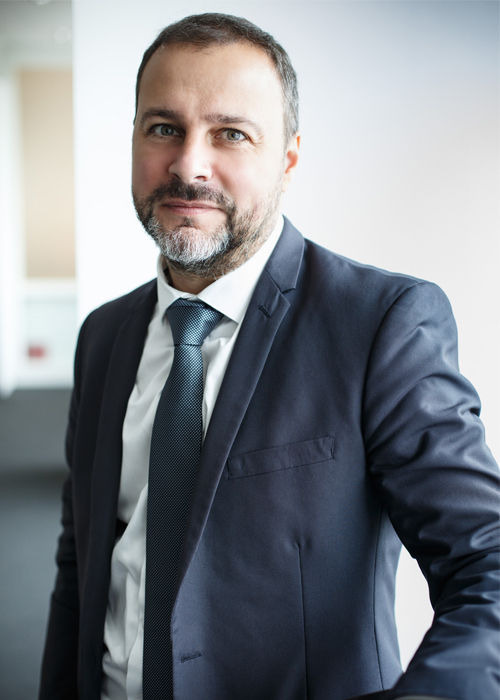 For more information, read the Interview of Stéphane Houin, a consulting director on emerging technologies and Head of the XP digital range for all banking and insurance operations at CGI, independent IT and business consulting services firms in the world.